Lil' Kim and Daughter Royal Reign Dance on Stage to 'Ladies Night'
Then rapper and her 6-year-old put on a show at the Florida Aids Walk event and Music Festival.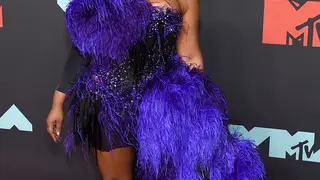 Lil' Kim's daughter Royal Reign surprised a Florida crowd with her impressive moves while her mother performed at an Aids Walk event on Saturday (April 24). 
According to HollywoodLife, the 6-year-old joined the rapper on stage to dance and sing her 1996 hit song "Not Tonight (Ladies Night Remix). Wearing a light pink dress, white-framed sunglasses, and a big white bow, Royal and Kim danced side-by-side. 
The pair even hit the 46-year-old's signature "Quiet Storm" dance move, which is a series of dodgy arm movements while squatting. 
Royal Reign was born on June 9, 2014.
On March 29, Lil' Kim posted an adorable video of them together at the Barclays Center home of the Brooklyn Nets. The mommy and me duo sported black and pink outfits as they joked and laughed.
The rapper then took the stage to wow fans with a stunning performance at the Brooklyn Nets game.  
According to TMZ, the Nets asked the Brooklyn rapper to perform in collaboration with the team's annual Women's Empowerment Game that honors the "achievements, contributions, and overall impact women have had on our society," per the NBA's official website.
The rapper brought down the Barclays Center with some of her most recognized hits like "Lighters Up" and "Ladies Night" while the Brooklynettes danced alongside the award-winning artist.