Numa Perrier's 'The Perfect Find': A Tale of Reinvention and Unexpected Love
Perrier talks about navigating weather problems and typical rom-com references to tell a story about starting again and finding love in the unexpected.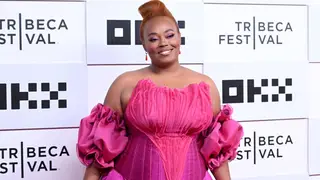 When Numa Perrier, director of the charming Netflix romcom The Perfect Find, was doing all the fifty 'leven things big and small required to make the movie––budgeting, scheduling, getting department heads on the same page, and of course, translating the words on the page to screen––she discovered she had another skill more impressive than all the others: the ability to control the weather.
"We had a lot of weather challenges, so there's a lot of rain in the film," Perrier says of The Perfect Find, which has Gabrielle Union playing a 40-year-old who finds sparks with a much younger guy. "But it ended up being a really beautiful happy accident that added texture and an extra layer of romance to the film. But every day, I would be negotiating with Mother Nature like, 'Okay, if it's going to rain, no thunderbolts please because then I have to shut down my day. Please rain exactly when I need you to.' I was praying to Mother Nature every single day. And you know what? It worked out perfectly. Mother Nature was so good to me. It rained and it stopped exactly when it needed to every single time. It's beautiful."
The Perfect Find marks Perrier's first big studio film; she'd previously written, directed, and starred in the indie film Jezebel –– a semi-autobiographical flick about a 19-year-old in Las Vegas who becomes an OnlyFans-type "cam girl" to support herself, as Perrier did in her youth. Making that film, she says, armed her with the multitude of skills, talent, and fortitude needed to get a movie made––raising money, crisis management, executing a vision among them––which in turn, gave her all the confidence she needed to convince Netflix was was right for directing The Perfect Find. "Whatever doubts or hesitation on their end, it was like, 'Hey, I'm in the perfect position to do this because as an independent filmmaker I can solve any problem. You always need more money; something goes wrong, but the independent filmmaker has the type of grit that allows you to trust them 1,000 times more."
The trust in Perrier paid off, as evidenced by The Perfect Find's generally positive reviews and fan feedback. The film, an adaptation of Tia Williams' novel of the same name, stars Union as Jenna Jones, a fashion editor whose life hits the skids when her career stalls and her relationship ends. After she begs for a job at a digital magazine led by her frenemy Darcy (played by the dynamite Gina Torres), Jenna soon meets Eric (Keith Powers), a fine lil tenderroni significantly younger than her and who is connected to Darcy in a way that makes Jenna's thirst for him wholly inappropriate. But the heart wants what it wants (and Jenna's other body parts want what they want, too, okay?!), and they embark on a steamy, slightly messy affair. One of the themes in the story is the notion of reinventing yourself in your 40s.
"This is called The Perfect Find but Jen is not a perfect woman," Perrier says. "It's not a perfect love story. And I think, let's lean into that––things not being perfect. The experience is still meaningful, whether you're making good or bad or in between decisions. The idea of perfection in what you're looking for is kind of what blocks you and maybe we can let go of some of that a bit and let things be."
Though the story is unique, Perrier leaned on inspirations and references that shine through on screen––particularly timeless rom-coms and Black classics, including Carmen Jones. "I was very influenced and motivated by Roman Holiday, Breakfast at Tiffany's, Broken Embraces by Pedro Almodóvar..there are a lot of references sprinkled through. There's a scene in The Perfect Find where Eric carries a Christmas tree, and that's a direct homage to When Harry Met Sally. For people in love with this corner of cinema, you'll pick up on some of those things."
But the biggest thing, by far, viewers will pick up on in The Perfect Find is that it's never too late to start over––or find love. That's a theme Perrier knows will hit home for many, particularly single Black women who may be burnt out on the dating game after years of stops and starts or less-than-ideal luck. "The main thing," she says, "is to just go for it. Don't be afraid to fall in love again, no matter how messy it is. Or how unexpected it is. Don't you know, don't let being burned stop you from falling in love again."
The Perfect Find is now streaming on Netflix.