Sad News for Toya Wright
The TV personality just made a major decision.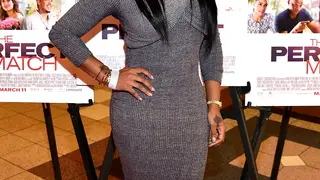 After trying to work out their issues on the reality show Marriage Boot Camp: Reality Stars, Toya Wright and her estranged husband, Mickey "Memphitz" Wright, have decided to divorce. Toya confirmed the decision on a recent radio interview with V-103.
"It's going to be hard to watch and it's going to be hard for me to relive this situation," she told Big Tigger. "This show was filmed a year ago. I don't know why they waited so long to release the show, but it is what it is."
Marriage Boot Camp wasn't the only outlet the couple used to work out their problems. They also appeared on Untying the Knot afterward, but things were unrepairable at this point.
"We were in a crazy place," she said. "When I signed up to do this show, I was in a vulnerable place. I did it with the hopes that we could make things work — at least take the counseling with Jim and Elizabeth."
She said filming the shows taught her a lot about their marriage and showed her that they're just not compatible: "I learned a lot about myself. I learned about Memph and I," she said. "We weren't as compatible as I thought we were... We're not together. That's no secret. We are getting a divorce."
Take a look at the interview, below:
Watch the TV personality explain how her book came together in the video above.