Watch: Colin Kaepernick Continues to Educate His Critics With Knowledge About Social Justice
Here's what the 49ers' quarterback had to say Monday.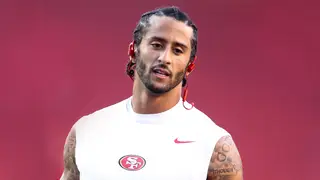 But the San Francisco 49ers quarterback also made sure to use the night — which had his team blast the Los Angeles Rams, 28-0, at home — to further push highlighting social issues and asking for social justice.
In doing so, Kap educated his critics with knowledge and facts.
As he continued to hold court with a pool of reporters around him, Kaepernick also evoked the name of Terrence Sterling, yet another unarmed Black man who was shot and killed by police.
"It's become habitual," Kaepernick told reporters of events similar to the Sterling situation. "It's an issue and it needs to be addressed because it continues to happen and every time, it's administrative leave [as a punishment for the police officers involved]. That's not right. That's an issue that needs to be addressed and policies need to be changed to address that."
Watch and listen to Kap's powerful words below.
Kap and teammate Eli Harold also fired back at former NFL quarterback turned ESPN analyst Trent Dilfer over his criticism of the silent protest.
For the second straight week, Kap's 49ers' teammate, Eric Reid, also knelt during the national anthem Monday night. Their other teammates, Antoine Bethea and Eli Harold, raised their fists during the song.
Across the lines, Rams' Kenny Britt and Robert Quinn also raised their fists during the national anthem.
It seems like Kaepernick's movement is only getting stronger.
BET Sports News — Get the latest news and information about African-Americans in sports, including weekly recaps, celebrity news and photos of your favorite Black athletes.