Viola Davis Reveals Her Training Regimen Was So Rigorous For 'The Woman King,' She Thought She'd Have A Heart Attack
She trained five hours a day for her role. #dedication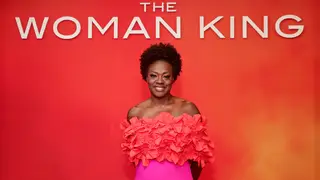 Viola Davis' recent appearance on The Tonight Show With Jimmy Fallon proved that the Academy Award-winning actress would go above and beyond for a role.
On September 14, Davis and Fallon chopped it about the strenuous training regimen the 56-year-old actress endured for her lead role in her latest project, The Woman King. She confessed to the comedian that she thought she would have a "heart attack" during the film's production.
"Let me tell you something. I was 56 when I trained to be this warrior. Five hours a day, hour and a half of weight training, three and a half hours of martial arts, punching, 10.0 on the treadmill."
"And as I was running on the treadmill, Jimmy," she continued, "I said, 'I'm gonna have a damn heart attack.'"
Fallon reminded Davis of how fire she looked in The Woman King as the audience roared with laughter.
"I mean, come on. Look at this. Look how good you look in this movie," he said, flashing a photo of a very fit and fierce Davis in character. "That one shot  of you flying through the air with that machete was just iconic."
The film tells the story of an all-female band of warriors from Dahomey in West Africa. The Agojie soldiers protected the prestigious African nation in the 1800s. Davis portrays General Nanisca, who prepares the next generation of female warriors. It stars Davis, ​​Thuso Mbedu, Lashana Lynch, Sheila Atim, John Boyega and Hero Fiennes Tiffin.
The Woman King is playing in theaters now.