Whoa, Girl! Tiffany Haddish Shoots Her Shot At Michael B. Jordan And Reveals The X-rated Scene Cut From 'Girls Trip'
You won't believe what wound up on the cutting room floor.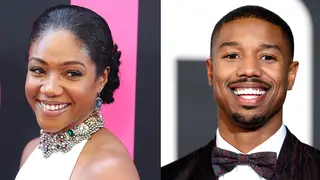 Tiffany Haddish is continuing to win as the new year commences and along her journey to the top, she is taking the opportunity to unapologetically shoot her shot at Black Panther star Michael B. Jordan.
Get more Tiffany Haddish news with BET Breaks, above.
The Girls Trip star flexed her signature charm during the New York Film Critics Circle dinner where she was awarded the trophy for Best Supporting Actress for her performance in the comedy film.
While her victory in itself was a highlight, it was her accompanying acceptance speech that pretty much stole the entire show, starting out with her comments directed towards presenter Michael B. Jordan.
During her speech, she compared herself to a Hindu goddess projected on the stage and somehow weaved a flirtatious pick-up line towards Jordan in there.
"She holding feathers because she taking care of animals and creatures," she said. "She got an eraser because she's trying to erase the bulls**t. She holding on to some seeds or a pine cone, which means she's trying to produce or create, and that's exactly what I'm trying to do. I'm not trying to get pregnant yet, Michael, but I'm working on it. B. Jordan..."
As if that detailed bit wasn't comedic gold enough, the actress went on to recall her favorite scene that was cut from her introductory film, Girls Trip, and it was definitely one to remember for more ways than one.
"There's a scene where I'm telling Regina [Hall] all of the things I'm gonna do for her. I've got her back," she said. "'And then when he asleep, we're gonna burn your name in his d**k. Then we're gonna put mud and salt on it so it will heal right over. And then it will be ribbed for your pleasure. And then when he woke up, we'll look him dead in his eyes. And we'll tell him right to his face, to keep your name out of these b*****s' mouths.'"
Making it a full-circle moment, she managed to bring it all back to her admiration for Michael B. Jordan, in the end.
"And they took that out of the movie, but I like to tell everybody about it, because these are the things I think about at night sometimes," she added. "Don't hurt my feelings, Michael B. Jordan."
Take a look at her hilarious speech, below: