Muni Long Bets Big On Self, Dishes On Success and Reinventing Valentine's Day
The "Hrs. and Hrs." singer-songwriter relishes in the connection with her listeners.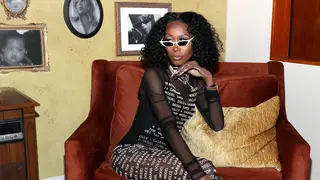 You may not be familiar with the name Priscilla Renea, but right now you're listening to her all over social media. Now cracking the top 10 on Apple Music, Spotify, SoundCloud, and more — Muni Long, as audiences are now coming to discover, is a singer-songwriter whose "Hrs and Hrs" is everything and everywhere.

As a longtime pop writer, Long didn't start out writing for huge names, but this isn't her first time at No. 1. That came with 2012's "Promises" for U.K.'s own, Cheryl Cole. With that battery in her pen, she got busy for the next 18 months, writing furiously for the likes of Rihanna ("California King Bed"), Fifth Harmony ("Worth It"), Selena Gomez ("Who Says"), and even Pitbull and Kesha ("Timber").
RELATED: Forbes' 'Top-Earning TikTok-ers 2022' List Contains Zero Black Creators

A social media savant, Long had already gained millions of views on YouTube a decade prior to her current chart-topping status. Long ignored by the industry for what she can do as a singer, Long refocused all of her efforts on bringing her R&B-pop sound to the world. And following her first two records, Jukebox (2009) and Coloured (2018), Renea pulled a Makaveli, renaming herself Muni, a Filipino word which means "to look from within," and flipped it into a double-entendre.

Long says she pronounces it like "Money," and when you add the last name to it, you know that this artist is thinking long-term when it comes to their music. Looking to be an inspiration to others how the late Aaliyah was to her, Muni Long's 2021 EP, Public Displays of Affection, is a dream years in the making. Via email, BET.com spoke with the rising phenom about remaining independent, what this moment means to her, and reinventing Valentine's Day for the sneaky link contingent.
---
BET.com: "Hrs and Hrs," plus its remix with August Alsina, have endeared you to new audiences via social media and word of mouth. For those just discovering your work, may you introduce them to who Muni Long is and how did you react when the song started to break through into the mainstream?

Muni Long: What's interesting is that while a lot of people are being introduced to Muni Long, I think a lot of people actually rediscovered Priscilla Renea. You look at a lot of the comments [online] and it has been sort of a re-education for people. They had wondered where I went being that I began on YouTube and had a huge following, but when I hadn't posted anything for a while, people were like, 'Where did she go?'

For those 10 years where I was behind the scenes, I was writing for Rihanna, Madonna, Mary J. Blige, Chris Brown, Selena Gomez, and others, while at the same time, people were still sharing my old music. So when I saw "Hrs and Hrs" taking off, it felt very much like the people chose this record and they were making it their own through dance and singing challenges, writing their own cover versions, and it all has been very fun to watch.

To notice people realize, 'Wait a minute, this is Priscilla from YouTube! Oh, my God, I've been looking for you. Where have you been?' It has been just very heartwarming to watch them re-engage with me on TikTok, Instagram, and all the new platforms. It's so dope!
BET.com: As an independent artist, you wrote, sang, and put up the money for "Hrs and Hrs," but this isn't your first #1 hit you're responsible for. Walk us through your songwriting journey and how those past big moments helped prepare you for your own?

Muni Long: This isn't my first number one [laughs], but I think it is completely different. As an artist, especially one that's furnishing my own endeavor, I realize how much more that happens when creating from farm to table music. Without the song, there is nothing to promote. There's nothing to share. There's nothing to market. If we're going to have something as massive as what "Hrs and Hrs" has become — the people have to like it. There has to be a package to it where the vocals get cut, the song gets mixed and mastered, and the video treatment gets written, styled, and shot.

There's so much stuff that in the past, as a songwriter, I wouldn't have had to do anything but write the song, leave, and that's my part. But there's so much more iceberg underneath the water [when it comes to being an indie artist] and that's why it is that much more rewarding that people are genuinely and organically in love with the song.
The amount of effort it took to make it happen made all this current success worth it.

BET.com: In evolving from Priscilla Renea to Muni Long and acquiring such success as a result of it — as a songwriter what barriers do you feel you've smashed while arriving at this point?

Muni Long: The biggest barrier to smash is the one in your mind. It's really a mental chokehold and if you can break through that then you realize that you can be whatever you want to be. I started as an artist [and] I wrote songs so that I could pay bills, eat, and not have to go back home to live with my mom. But, through it all, I was always an artist. When I signed to Capitol Records in 2008, I never stopped being an artist [and] I've always written my own songs.
Pharrell is an artist who writes songs. Jay-Z writes songs. There's all these artists across history — Elton John, Freddie Mercury, Lionel Richie — who all write songs where other people sing them. But we don't try to keep them just in that space or relegate them to being a service of words and melodies for other people. We look at them holistically as the incredible, impactful creatives that they are and were.

That's how I look at myself. I am right up there with Aretha Franklin, Stevie Wonder, and Alicia Keys — I'm a multifaceted creative.
BET.com: As part of that growth process, you even cut a country record in 2018 before the likes of Lil Nas X's "Old Town Road." How does it feel to have sensibilities that feel ahead of its time? And what does it mean to you to go from "can I write a song for you?" to "can I sing to you?"
Muni Long: I have been really doing a lot of work — internally, mentally, spiritually, emotionally even — to be the best, highest version of myself. I think with my channeling ability I can see into the future, which has become even more precise and crystal clear. I'm going to continue to follow my heart. I'm making decisions purely off of this is what I want to do [and] my intention is to make the best thing that I possibly can.

The thing, which is a bright and impactful thing that affects my own spirit. And in return, whenever I make a choice that is in that direction, the people resonate with it for some reason. I can't tell you exactly why, but I know there is a reason why I'm the person that gets to be the vessel that gets these songs. When I'm writing, it isn't literally with the pen and the pad — although I do that too — it's mostly a stream of consciousness, turning on the mic and just starting singing.

I am receiving channeled messages and get these waves of thoughts and ideas at like three, four in the morning. And it's not as far-fetched as someone would think, you know? We believe in wifi and cell phones, so why can't we think the same thing about thoughts and waves? We're all antennas. Some of us are open to receiving messages and others may not believe it's possible, which explains why they're not getting it.
BET.com: "Hrs and Hrs" is an addition to Public Displays of Affection, which you had already turned in, and from there it turned into the soundtrack others used to share intimate moments with those they care about. What do you think of the instant connection that music lovers can create once they resonate with an artist's work?
Muni Long: I've had this sort of thing happen to me with artists that I love. It is really like seeing inside their skull [and] you get to see how they view the world. I think that spark means that I'm not the only one who feels like this [because] a lot of times we believe we're the only ones going through this experience — and it's actually untrue. We all have the same emotions, frustrations, desires, and wishes. Just because we don't say it out loud, doesn't mean that we don't have the same connection.
With music, because it's auditory, it's like you're saying it in a way that sounds cool. [And] I think that instant connection just comes from all of us realizing that we're not at all different as we might think we are.

BET.com: To follow up, what were your first reactions once TikTokers turned into Apple Music and Spotify listeners?

Muni Long: It's still wild! Every day, the way this new music industry operates is like we're all cyborgs and have this phone attachment at the end of our arms. Our whole life is there — our wallets, contacts, photos. Our lives are on the internet [and] they're entirely different from how we live in the real world. But I think it's all incredible. This metaverse that we have attached to our hands is able to connect us and socialize us, but in 24 hours a million people can share the thing that you made in 30 seconds. It is an incredible thing indeed.

With "Hrs and Hrs," and the rest of my music, I don't think we'll truly be able to understand what's happening for me. I've only been on this journey as Muni Long for one year, but I've already been an artist for 12 years and I spent this past 365 building momentum towards what happened in December [with the song.] I won't be able to see what's happening from a data perspective for another five or five years, so I'm being in the moment, being present right now.
BET.com: With your own artistic renewal and "Hrs and Hrs" impact on the upcoming holiday season, what would be your advice/suggestions for those looking to reinvent Valentine's Day and/or celebrate with a sneaky link?
Muni Long: [Laughs] First of all, be careful. Omarion [Omicron] is out here, so stay safe. Seriously though, if you have the opportunity to connect with a loved one or somebody you might have feelings for, I'd encourage people to just take advantage of the moment and don't be too cool. Even if it isn't a romantic connection, tell people that you love them while you can [and] don't be ashamed to express how you feel. I'm always telling people that I love them.

I'm super loving in that way because I understand that others may not hear it and even more people are afraid to express it. So, with that known, I am definitely encouraging people and loving all on them. There is a lot of meanness, bullying, and negativity [in the world] — and it just needs to change.
BET.com: Lastly, is there anything upcoming that you wish to share with the BET.com readers?

Muni Long: [Laughs] I have "Hrs and Hrs" of music coming. There's so much to share with everybody from visuals to live performances, so I'd just say to keep your notifications on. Tag them to Muni Long, follow me across all socials, which is @MuniLong on everything, and know I don't plan on slowing down anytime soon. Just be prepared to be entertained.
---
Kevin L. Clark is a screenwriter and entertainment director for BET Digital, who covers the intersection of music, film, pop culture, and social justice. Follow him on @KevitoClark.