Porsha Seriously Shades NeNe Leakes for Returning to 'Real Housewives of Atlanta'
Is she already picking her next fight?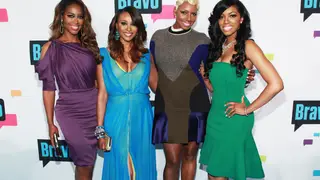 Porsha Williams shattered lives with the controversy she started on the last season of Real Housewives of Atlanta, but it doesn't seem like she learned her lesson. Now, the trouble-making reality star is already stirring up drama with the "newest" cast member of the upcoming season — none other than Nene Leakes.
Chatting about Leakes return on Dish Nation, Frick (or is she Frack?) couldn't help but get shady.
"She been waiting, I'm glad she got a job back," Williams said of Leakes. "You got to be pretty excited to go do a whole photo shoot, all this, that. I'm glad, I'm happy for you, I'm glad you happy."
See the interaction below:
Careful, girl. Last time you played with fire, someone got fired.
See who else is joining RHOA with BET Breaks, above.