Girls Trip! Besties Kris Jenner And Marjorie Harvey Are On One Expensive European Vacation
But why is the Internet saying Kris Jenner is getting with Steve Harvey though?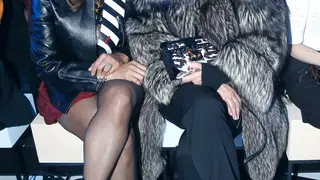 Friends who vacay together, stay together, right? Marjorie Harvey and Kris Jenner are letting everyone know that Kris is not fooling around with Steve Harvey. 
Rumors recently surfaced that Mrs. Harvey wasn't too happy about the closed-door meetings and texts and calls shared between Mr. Harvey and her friend Kris. An ex-employee allegedly claims that Marjorie was even threatening her man, who cheated on his two previous wives, with divorce. A $400 million divorce, to be exact.
But there's no trouble in paradise, literally. The ladies, and their men, were spotted on a friends and family trip in Portofino, Italy, looking happier than ever. Check out pics of the European vacation below:
We think this friendship is still going strong. Kris and Marjorie got too much love, and money, to be paying attention to any of these petty rumors!