Nine Deputies Indicted For Death Of Black Memphis Jail Inmate
Gershun Freeman was punched, kicked, and officers kneeled on his back during an altercation while in custody.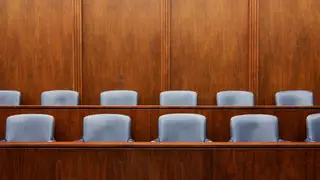 Nine jail deputies in Memphis were indicted in the death of a Black man who died in custody after suffering from a psychological breakdown.
According to CBS News, the officers punched, kicked, and kneeled on the back of  33-year-old Gershun Freeman during a confrontation while he was being held in a special section reserved for suicidal inmates, Shelby County Sheriff Floyd Bonner said during a news conference on Wednesday (September 20.)
Stevon D. Jones and Courtney J. Parham, two of the deputies were charged with second-degree murder,  the indictment states. Anthony D. Howell, Chelsea B. Duckett, Ebonee N. Davis, Damian S. Cooper Jr., Lareko Donwel Elliot, and Jeffrey A. Gibson were all charged with aggravated assault. Another deputy's name was redacted from the indictment because they did not turn themselves in, the Shelby County Criminal Court Clerk's Office noted.
Ben Crump, who's representing the Freeman family said on Thursday (September 21)  that "we have another young Black man being killed unjustly with visual evidence of the brutality that was inflicted upon him, and you have a brokenhearted mother."
Presiding over the case is Glenn Funk, district attorney in Nashville after Steve Mulroy, the district attorney of Memphis recused himself from the case because he endorsed Van Turner who's running against Bonner.
"We are not commenting at all on a pending case, or the comments made by Sheriff Bonner," said Steve Hayslip, the director of communications from Funk's office.
Bonner said that "the way the case was being handled is political, and it's only grown worse" and that Funk should have sealed the footage of the incident from being released to the public.
"I believe if I were not running for another office these indictments never would have happened and I find that despicable," Bonner said.
The fatal incident took place in October 2022, when Freeman was booked on charges of attacking and kidnapping his girlfriend. According to the surveillance footage, two corrections officers were serving meals to inmates in the hallway when Freeman exited his cell without any clothes on and appeared to run toward the officers.
After the officers tackle Freeman to the ground and begin "to punch, kick and pepper-spray him" as more officers arrive on the scene.
As the video continues, the officers finally restrain Freeman by getting him face-down on the ground. Then officers are seen stepping and kneeling on his back before his body goes limp. One officer stayed on Freeman's back for several more minutes until he was lifted off the ground. Freeman remained in the same position until medical personnel arrived on the scene.
Freeman was given CPR before being pronounced dead.
Bonner said the deputies were placed on paid administrative leave and that they have his full support.
"Let me be clear. No action — no action — by any Shelby County Sheriff's Office employee caused Mr. Freeman's death," Bonner explained, adding that he would be "the first one to donate" to any fundraiser to curtail the legal fees of the deputies.
Brice Timmons, another attorney representing Freeman's family, holds Bonner responsible for Freeman's death.
"He supports his officers," Timmons said."He creates these policies."