Michael Blackson Opens Up Free School In Ghana
An official ribbon-cutting ceremony took place on Jan. 3.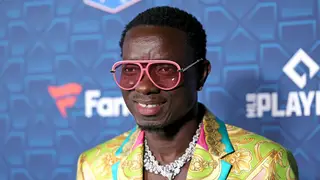 Comedian Michael Blackson has opened his own school in his native Ghana that will offer free tuition to all students that choose to attend. Michael Blackson Academy is located in his hometown of Agona Nsaba.
Blackson was present at the ribbon-cutting ceremony on Tuesday (Jan. 3) and shared footage on his social media of the event that featured a tour of the building, live performances and more.
"Today is the greatest day of my life because I've finally accomplished what I always wanted to do which is giving these kids a chance to be great," he captioned in the post. "Greatness starts with education and foundational education shouldn't come with financial barriers."
In a Twitter post, Blackson shared his gratitude to his fans who he said helped make his dream of opening the school come true. He first started construction on the project back in 2020.
"Finally, it's all done and the kids in my village will all go to school for free," he wrote. "Thanks to all my fans that supported me thru out the years, every ticket you bought to my show helped a kid."