Commentary: What Obama Faces in His Second Term
Second terms have not always been kind to presidents, but Obama's focus on a few key elements might help him in his last four years.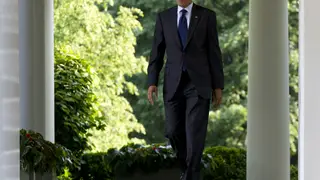 Since the beginning of the history of the United States, second terms have proven tricky for presidents.
Thomas Jefferson's popularity took a nosedive in his second term when Americans soured on his foreign policy and bad relations with Great Britain. Woodrow Wilson was dealt the blow of his presidency when the Senate failed to ratify the United States' role in the League of Nations. Franklin Roosevelt suffered his worst political embarrassment when his plan to expand the Supreme Court failed. Ronald Reagan encountered the Iran-Contra scandal. Bill Clinton dealt with impeachment proceedings in his second term, and Richard Nixon resigned amid scandal.
In his second term, Barack Obama faces a hostile House of Representatives throttled by some of the most conservative members of Congress this nation has ever seen. The nation is still immersed in wars overseas and a constant threat of unpredictable acts of violence. The American economy is improving slowly, but unemployment remains stubbornly high.
While second terms are often fraught with problems, President Obama nonetheless has a number of items on which he should focus.
First and foremost is unemployment. There is no way for the country to regain its most robust bill of health without Americans returning to work in larger numbers. And the administration must focus its effort on developing jobs. And within that task must be an effort to jumpstart employment in African-American and Latino communities.
While some may argue that the president's efforts should be colorblind, the simple truth is that these emerging communities will soon make up the majority of America's population. Targeting communities of color for job growth is simply a sensible investment in the country's economic future.
Beyond that, the president must place new energy behind making the continued spurring of the nation's economy an urgent priority. If the nation's economic engine is revved up even greater, it will address so many of the nation's other priorities. He must continue to turn his attention away from the notion that so-called entitlements are the problem with the nation's economy and that increasing the age under which people can gain social security benefits or privatizing Medicare are somehow sensible answers to the economic problems.
However, much of Obama's task for the second term is not just in the policy issues he seeks to tackle, but in the style he will adopt in pursuing them. On that score, the president has shown a new and welcomed disposition in the weeks leading up to the second inaugural. Like in his pronouncements about the discussions regarding the nation's debt ceiling, he has seemed tougher, more determined to stand on not just his convictions, but those of the people who elected him.
For much of the first term, progressives and liberals complained about what seemed to be the president's inclination toward compromise and conciliation. His recent statements in press conferences after the November election offer hope that Obama has embraced a new tact on dealing with his opponents. It is a welcomed development.
Obama has already defied odds and history. His very presence in the White House is symbolic of how the old calculations of politics and, indeed, history itself need no longer apply to this era. With that in mind, Obama's second term may well allow the nation to see developments that would truly be remarkable.

The opinions expressed here do not necessarily reflect those of BET Networks.
BET National News - Keep up to date with breaking news stories from around the nation, including headlines from the hip hop and entertainment world. Click here to subscribe to our newsletter. 
 (Photo: AP Photo/Carolyn Kaster, File)