Lizzo Fans Clap Back Amid Comedian Aries Spears Fat Shaming Comments
The "About Damn Time" artist seemingly responded to the incident during her 2022 VMA acceptance speech.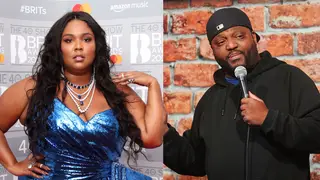 Lizzo's fans were not here for the fat-shaming comments about the pop star, and after comedian Aries Spears sounded off about the "About Damn Time" artist, Twitter went ablaze.
A snippet of an interview with the comedian was posted on Friday (Aug. 26), where the interviewer asked Spears' opinion about the artist's music and songwriting talents. Instead of answering the question, he used the moment to bash Lizzo.
"I can't get past the fact that she looks like a s— emoji," he said, avoiding the question. "She's got a very pretty face, but she keeps showing her body off like, come on, man. Come on, yo."
The hateful words didn't stop there as Spears continued the jabs.
"You know what kills me about women is the hypocrisy and the contradiction," Spears added. "'F— diabetes, f— heart problems, f— heart disease, cholesterol. Y'all claim womanhood and about sisterhood and support for your sister, you know when it comes to that ridiculous s—. But if you really gave a f—, why wouldn't you go, 'Black girl, we love your confidence, boo boo, but this ain't it. This ain't it.'"
As the clip continued to go viral, Lizzo fans headed to the social media platform to defend her.
"Watching men respond to Lizzo has done more to end my belief in heterosexuality than anything else I have ever seen. It's not just ignorance," one user wrote.
"The hate towards Lizzo is so unprovoked, it's weird. The woman exudes sex appeal, and she's minding her own business. Cry about it, Aries," another Twitter user wrote.
While Lizzo hasn't formally responded to Spears and his belittling comments, during her acceptance speech in the Video for Good category at the 2022 VMAs on Sunday (Aug. 28), the Special artist clapped back just a little.
"And now, to the b**** that got something to say about me in the press," she said.
"They be like, 'Lizzo, why don't you say something?? Why don't you clap back? Why don't you clap back?'"
"Because, b***, I'm winning," she said, holding up her moon man award before walking off the stage.