SZA Runs to Janelle Monáe's Defense Amid Criticisms Over 'Lipstick Lover' Video
The singer called the recent backlash "ridiculous."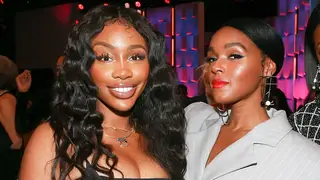 Some of Janelle Monáe's fans have been struggling this week to accept the singer's perceived new sexier persona amid the release of the music video for their latest single, "Lipstick Lover.'' The steamy new visual found the songwriter putting their breasts on display multiple times. However, with criticism, along came praise from many other people online, including r&b SZA, who expressed total support for Monáe's "self-renaissance" era.
The "Kill Bill" singer addressed the trending topic in the comment section of RNB Radar's Instagram post of Monáe lifting their shirt up to a crowd of people.
"I love that it's HER being free [right now] because [people] LOVE to box women in and claim that because you're articulate respected and intelligent, you can't show your body or be sexual or anything else lol," the songwriter wrote. "It's a ridiculous notion and I'm ALL FOR HER SELF RENAISSANCE."
Monáe is set to make their return to music with their forthcoming album, The Age of Pleasure. It's the entertainer's first project since their critically acclaimed 2018 project, Dirty Computers.
In a press release, the singer addressed the upcoming project, stating, "As we enter into 'The Age Of Pleasure, ' 'Lipstick Lover' is our freeassmothafucka anthem inspired by f.a.m. for f.a.m.This is our oasis made with love, rooted in self-acceptance, throbbing in self-discovery, and signed with cherry red kisses from me to you."