Howard University Selects African Diaspora Historian Ben Vinson III As New President
Currently a provost at Case Western Reserve University, he replaces retiring president Wayne A. I. Frederick.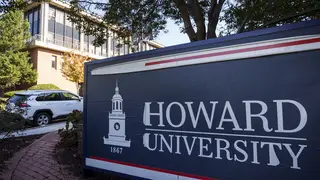 Howard University announced May 2 that it selected Dr. Ben Vinson III as its 18th president.
The university's board of trustees unanimously voted to hire Vinson, 52, who is a historian of the African diaspora with a focus on Blacks in Latin America, according to a statement from Howard.
"The opportunity to lead Howard at this historic juncture represents the honor of a lifetime. Howard's incredible legacy, its remarkable trajectory, combined with the fine talent of its faculty and staff, situate Howard at the uppermost echelons of higher education," said Vinson, who is currently a provost and executive vice president at Case Western Reserve University in Cleveland.
A presidential search committee selected Vinson after conducting a year-long search.
Board chairman Laurence C. Morse said he's confident in Vinson's ability to lead the university, saying his academic research and initiatives as a higher education leader demonstrate his alignment with Howard's mission and vision.
"Under his future leadership, we believe that the University will only strengthen its storied legacy by continuing to embrace and serve our community, being a powerful thought leader on issues of global significance, and engaging in scholarship and practice that puts the voices and experiences of Howard students, faculty, staff, and alumni at the center," Morris said.
Howard announced Federick's retirement in April 2022, marking the end of more than three decades at the HBCU as a student, faculty member, administrator and president. He began as interim president in 2013 and assumed the permanent position in 2014.
"I am thrilled to welcome Dr. Ben Vinson III as the 18th President of Howard University," Frederick said. "His vast experience and proven track record in academic leadership make him the ideal candidate to lead our esteemed institution into the future. I am confident that Howard will continue to thrive under his guidance as a premier center for higher learning and innovation."
Vinson earned a bachelor's degree from Dartmouth College with a double major in history and classical studies. He later earned a doctorate in Latin American history, with distinction, from Columbia University.