Who's The G.O.A.T.? Hypnotize Minds vs CMG | Round 1
In the tournament to decide the greatest rap crew of all time, this Round 1 battle is between Hypnotize Minds and Collective Music Group.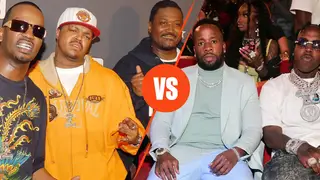 In recognition of hip hop's 50th anniversary, BET, in partnership with Ambrosia For Heads, is celebrating the culture by hosting a bracket-style competition that allows you to determine hip hop's greatest crew.
Rather than having "experts" tell you who is the greatest of all-time, this is your opportunity to collectively make that decision. After giving the opportunity to any and all fans to provide feedback on which crews should be included, 32 collectives from different regions, styles, and generations have been selected—all vying for that #1 spot. When the final battle is over and the last vote is cast, you will have determined who is your Greatest Rap Crew of All Time.
Once a city that fought for its hip hop recognition in the 1990s, Memphis now has multiple crew movements. Three 6 Mafia and Hypnotize Minds helped lay the blueprint for artists making southern-minded Gangsta Rap that honored its city's musical roots. 
Not long after Three 6 began, Yo Gotti embarked on his independent journey from North Memphis before launching his uber-successful Creative Music Group crew. While there may have been friction in these two camps for a time, those issues have been resolved as their music has been released. Both entities have made Memphis a Rap destination and built two thriving Black-owned companies surrounded by devoted crews. In this tournament, however, only one of these collectives can move past Round 1.
Hypnotize Minds
The Hypnotize Minds crew harnessed the magic of underground albums in the 1990s and used that same formula to win Oscars and earn a hallway full of plaques. Three 6 Mafia, a rapping and producing conglomerate including Juicy J, DJ Paul, Gangsta Boo, Crunchy Black, Lord Infamous, and Koopsta Knicca, extend beyond their collective to involve Juicy's brother Project Pat, Lil Wyte, La Chat, and others. Across the board, the energy blended soul samples with beats designed to tear da club up. Songs like Three 6's "Sippin' On Some Syrup and Pat's "Chickenhead" kicked in doors with an extended crew. 
With platinum and gold plaques already on hand, support increased by the mid-2000s after songs like "Stay Fly" took Three 6 to new heights, as the soundtrack song "It's Hard Out Here For A P*mp" earned the group an Academy Award. 
The mainstream began to embrace an unapologetic and street-rooted sound. Juicy's influence would soar through a new generation of artists, ranging from Wiz Khalifa to Katy Perry. At the same time, Hypnotize Minds fed core fans with projects by Gangsta Boo and La Chat together as well as Da Mafia 6ix—an amended version of the original Three 6 Mafia. Even after the passing of Infamous, Koopsta, and Gangsta Boo, Hypnotize Minds' music remains active and keeps fans entranced.
CMG
After nearly two decades of releasing projects, Yo Gotti had already worked with the best of the best in rap. However, it was then that the Memphis star began to build and cultivate a crew. In less than a decade, Gotti has proven that he has one of the best sets of ears for talent in the industry. Collective Music Group has since achieved 50 Hot 100 hits and 12 Top 10 albums on the Billboard charts. It began with Snootie Wild, the now-deceased artist Gotti partnered with for the gold album "Yayo" in 2014. 
Two years later, the North Memphis mainstay involved the crosstown sensation Moneybagg Yo and another hometown star, Blac Youngsta. In 2022, EST GEE and 42 Dugg partnered for "Last Ones Left," with their CMG affiliations being a throughline for the Louisville and Detroit artists, respectively. A year prior, the two artists secured a platinum single with "5500 Degrees." In 2022, CMG dropped "Gangsta Art," with the title track, "Big League,"and "Steppers" flaunting the star power found within this unit—now including Sacramento's Mozzy. BlocBoy JB, a non-label artist, has frequently worked with the CMG crew on songs and compilations. 
Roughly a year into her professional career, GloRilla has become a Grammy-nominated artist as well as a recent performer at the awards. Creative Music Group is rapidly expanding, but through mentorship and fellowship, it closely adheres to Yo Gotti's emphasis on persistence, work ethic, and authenticity.
In this celebration of hip hop and all of its talented crews, your vote decides the winner.
---
EDITOR's NOTE: Register for the sweepstakes for a chance to win the grand prize of 2 Tickets to BET Awards 2023, 2 Round Trip Airline Tickets, 2-night Hotel Stay on June 25. Up your chances to win by voting weekly.
NO PURCHASE NECESSARY TO ENTER OR WIN. VOID OUTSIDE OF THE 50 US & DC AND WHERE PROHIBITED BY LAW. Open to legal residents of the 50 US & DC who are 18 years or older at time of entry. Ends at 12:00pm ET on May 1, 2023. Official Rules: bet.com/grcoat-official-rules. Sponsor: Black Entertainment Television.