65th Annual Grammy Awards: Hip-Hop 50 Honored With Star-Studded Performance
See parts of the performance including everyone from LL Cool J to GloRilla.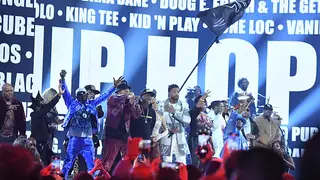 After LL Cool J presented Dr. Dre with the "Global Impact Award" for his contributions to music at the 65th Annual Grammy Awards, he introduced the highly-anticipated tribute to hip-hop's 50th anniversary.
The Questlove-curated performance, which was narrated by fellow Roots member Black Thought, featured performances that began with the '70/'80s-era of the culture and quick sets by Grandmaster Flash and the Furious Five, LL Cool J, Salt-N-Pepa, Rakim and more before moving to the '90s with Queen Latifah performing "U.N.I.T.Y.", Scarface with "My Mind's Playing Tricks On Me", Big Boi with "ATLiens" and more.
That all was followed by Latifah narrating the third chapter representing the 2000s. Nelly performed "Hot In Herre" and Lil Wayne did "A Milli" before the contemporary stylings of Lil Baby doing "Freestyle", GloRilla performing "F.N.F. (Let's Go)", Future performing "F*ck Up Some Commas", and Lil Uzi Vert doing "Just Wanna Rock" to conclude the set.
Check out what went down below.
Here are some additional photos from the star-studded, banging performance.