Quinta Brunson To Make Her Hosting Debut On 'Saturday Night Live'
Lil Yachty will be the musical guest.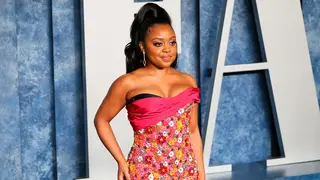 Mark your calendars. On April 1, Quinta Brunson will host Saturday Night Live with Lil Yachty as the musical guest.
According to Variety, Brunon's hosting the sketch show could air simultaneously as a strike by the show's post-production editors. There are calls for NBCUniversal to pay editors industry standard rates and provide appropriate health benefits.
Alan Heim, president of the Motion Picture Editors Guild, said last week, "The fact is that these workers play a key role in making 'SNL' the comedy institution that it is and they deserve the same standards as other workers on the show have. That is why we are thankful for all the outpouring of support they have received from other crafts and cast members on the show. This support is helping to ensure that management will eventually do the right thing."
It's unknown how the possible strike will impact the April 1 episode of Saturday Night Live.