This Week In Good Black News: Black Chyna Celebrates Sobriety, Michelle Obama Is Encouraging You To Vote, And Taye Diggs Is Back
Also, BET co-founder Sheila Johnson released a powerful memoir about her incredible life.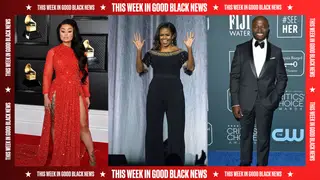 While the long days of summer are almost officially over, this week, good Black news was on fire. Taye Diggs returns in the BET+ film "Love & Murder: Atlanta Playboy," Black Chyna celebrates one year of sobriety, and former First Lady Michelle Obama is stressing the importance of voting as we head towards the midterm election. All this and more in "This Week in Good Black News."
Taye Diggs's Latest Movie Drops On BET+!

Taye Diggs is back! On September 21, "Love & Murder: Atlanta Playboy'' drops on BET+. The two-part movie tells the true story of tech entrepreneur Lance Herndon, played by Diggs. On August 8, 1996, Herndon, 41, was found bludgeoned to death in his bed at his home in Roswell, a suburb of Atlanta. Herndon's extravagant lifestyle resulted in several jealous lovers and sinister enemies. The movie is adapted from the book "Redbone: Money, Malice, and Murder in Atlanta" by Ron Stodghill. Part one is streaming now, and part two airs on September 28.

President Obama Supports the Auto Workers Strike

President Barack Obama is still with the people! The United Auto Workers union, one of the latest organizations to undertake a major strike, is now receiving support from the former president. 

Mr. Obama posted on social media, "Fourteen years ago, when the big three automakers were struggling to stay afloat, my administration and the American people stepped in to support them. So did the auto workers in the UAW who sacrificed pay and benefits to help get the companies back on their feet. Now that our carmakers are enjoying robust profits, it's time to do right by those same workers so the industry can emerge more united and competitive than ever."  The strike is the first work stoppage since 2019, when auto workers walked out on GM. President Joe Biden has also expressed his support for the UAW.

'The Cosby Show' Premiered 39 Years Ago This Week

On September 20, 1984, television history was forever changed when "The Cosby Show" debuted. Created by and starring Bill Cosby, this groundbreaking sitcom became an instant hit and left an enduring legacy that altered the television landscape. 

"The Cosby Show" cast, led by Cosby as Dr. Cliff Huxtable and the accomplished Phylicia Rashad as Clair Huxtable, continues to shine as one of history's most beloved TV families. Malcolm-Jamal Warner, Lisa Bonet, Tempestt Bledsoe, Keshia Knight Pulliam, and Sabrina Le Beauf portrayed the Huxtable children. "The Cosby Show" broke barriers by showing an affluent Black family, the Huxtables, who shattered stereotypes. This revolutionary representation paved the way for more diverse and inclusive storytelling on television. See the season one trailer above.

Special Counsel Jack Smith Claps Back At Trump, Complaining That Judge Tanya Chutkan Should Recuse Herself From His Case

Special counsel Jack Smith does not have time for former President Donald Trump's foolishness. Last week, Trump filed a motion requesting that Judge Tanya Chutkan recuse herself from his 2020 election interference criminal trial. Smith responded in a legal brief, writing that there's "no valid basis under the relevant law and fact" for Chutkan to step down from overseeing the case, CBS News reports. Chutkan, who has a reputation for imposing harsh penalties on January 6 rioters, was randomly assigned to Trump's case. Trump's attorneys accused Chutkan of making comments that appear to show she's biased against him. In one instance, she suggested in a separate case that Trump should be prosecuted and imprisoned, according to Trump's lawyers. As late as September 18, Trump's lawyers were still demanding that Chutkan step down.

Sounds like someone is shook.

Blac Chyna Has Been Sober For A Year And Rocks 'The Tamron Hall Show' With No Makeup!

Big ups to Blac Chyna, who celebrated one year of sobriety!

In 2022, the reality star, whose legal name is Angela White, began a complete transformation, and now she is celebrating one year of sobriety. The 35-year-old posted on IG, "September 14, 2023, marks my one-year of sobriety this year taught me a lot about myself. I made up my mind on September 14, 2022 that I was done with the alcohol. This process is not easy but I did it, I plan on continuing practicing sobriety." 

On September 18, Chyna also appeared on "The Tamron Hall Show" with no makeup, showing her raw self. She told Hall, "This is me, just Angela." Watch above.

Black Love Wins! Al Roker And Deborah Roberts Celebrate 28 Years of Marriage

Black love at its finest! On September 16, Al Roker, 69, and his wife, Deborah Roberts, 62, celebrated 28 years of marriage. Roker posted on IG, "28 years ago, @debrobertsabc promised to be there for better, for worse, thick and thin. Good times and Bad. But the greatest gift is the family she has given me. Happy Anniversary, sweetheart."

Roberts' also posted on IG and included a reference to the sweet times of their nearly 30-year romance, including a fun moment in an apple orchard, "Wow! It's been 28 years. Beginning with a few jitters, great excitement and hearts brimming with hope, we embarked on this journey. And it has been one great adventure. This last year has taught us to cherish each moment. You are mine….I am yours. And where you are, I am too. Happy anniversary my dearest. Let's keep making memories."

See the Roker family in the post above.

National Voter Registration Day!

In case you missed it, September 19 was National Voter Registration Day. Our forever First Lady Michelle Obama posted on Twitter, "It's up to all of us to fight for our democracy and get involved by checking our registration, making a plan to vote, and helping our communities register to vote."

Chioma Nnadi Makes History As The New EIC of British Vogue

It was announced this week that London-born journalist Chioma Nnadi will replace Edward Enninful as the head of British Vogue. Nandi has been working with all things Vogue since 2010. She worked at Vogue in New York, managed the American website, and co-hosted the widely popular Vogue podcast. Nandi is the first Black woman in the role and told The Guardian, "Things have changed a lot. When I started out, there was one other Black person working in the building, and we both went to the same college. It wasn't the same place it is now. Obviously, matters of diversity and inclusion should always be on the agenda, but it feels like more of an open conversation now, and that feels to me like progress."

Congrats to Chioma Nnandi!

BET Co-Founder Sheila Johnson Releases Her Memoir

On September 19, Sheila Johnson, who co-founded BET with her ex-husband Robert Johnson, released her "Walk Through Fire: A Memoir of Love, Loss, and Triumph." In 1980, Johnson and her then-husband founded BET, but sold the company in 2000 for nearly $3 billion, making her the first Black billionaire in the U.S. Although she has shattered glass ceilings, ascending to where she is now comes with challenges, which are detailed in the book. Johnson is now the CEO of the award-winning Salamander Hotels & Resorts. She is the only Black co-owner of three professional sports teams in Washington, D.C., including the Wizards NBA team, the Mystics WNBA team, and the Capitals NHL team. 

Exoneree Jimmy Dennis Surprised With Patti LaBelle Tickets At 'Clay and Reecie Live: Beyond the Mic'

As BET.com reported last week, radio hosts Clay Cane and Reecie Colbert stopped in Philadelphia for another sold-out installment of "Clay and Reecie Live: Beyond the Mic." While in the City of Brotherly Love, they brought exoneree Jimmy Dennis on stage, who was on death row after being wrongfully convicted of killing 17-year-old Chedell Ray Williams in 1991. Dennis, a musician and native son of Philadelphia, was finally released in 2017 under District Attorney Larry Krasner's Conviction Integrity Unit. Sadly, Pennsylvania does not compensate the wrongfully convicted, and Dennis has not received a penny from the commonwealth.

In a surprise moment in the show, Cane and Colbert surprised Dennis with two tickets to see the legendary Patti LaBelle, who is also a Philly native, on December 9 at the MET in Philadelphia. See the beautiful moment in the clip above!