'Clay and Reecie Live: Beyond the Mic' Heads To Philadelphia, Will Honor Exoneree Jimmy Dennis
For 25 years, Jimmy Dennis sat on death row for a crime he did not commit.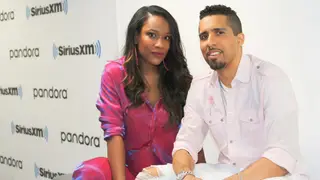 Tomorrow (Sept. 16), radio hosts "Clay and Reecie Live: Beyond the Mic" will make their next stop in Philadelphia to honor exoneree Jimmy Dennis. It's the second sold-out stop for SiriusXM radio hosts Clay Cane and Reecie Colbert in their ongoing effort to bring more attention to the stories of the wrongfully convicted. 
Cane, a native son of West Philadelphia and the director of the award-winning BET.com documentary "Holler If You Hear Me: Black and Gay in the Church," told BET.com, "It's going to be incredible to come back home to Philly at the Philadelphia Ethical Society. 'Beyond the Mic' is fun, interactive, and brings joy, but it'll be a powerful moment to celebrate Jimmy Dennis. He is a true survivor. Jimmy's story could have been me or anyone else I grew up with in Philly." 
Colbert added, "'Beyond the Mic' feels like a family reunion, but our exonerated segment is truly the heart of the show. At our Philly stop, there's no person more fitting to celebrate than Jimmy."
In 1991, Dennis was only 21 years old when he was convicted of murdering 17-year-old Chedell Ray Williams. She was shot in broad daylight after a man tried to steal her earrings. With no physical evidence, DNA, or weapon, Dennis was sentenced to death row. According to The Philadelphia Inquirer, Dennis had no known connection to the victim and had an alibi that "he'd been traveling from his father's house to the projects at the time of the murder. He even waved to one of his neighbors." After 25 years in prison, Dennis was finally released in 2017 under District Attorney Larry Krasner's Conviction Integrity Unit.
Serving time on death row resulted in physical and psychological torture. Dennis was assaulted multiple times while in prison and lost 30 percent of his hearing. Sadly, Pennsylvania does not compensate the wrongfully convicted, but exonerees can file a civil lawsuit to be compensated, as Chester Hollman, did. Hollman was awarded over 9 million for spending 28 years in prison for a crime he did not commit.
Cane interviews exonerees weekly on his SiriusXM show, "The Clay Cane Show." An exoneree will be honored at each stop on the "Clay and Reecie Live: Beyond the Mic" tour, which will be in Atlanta in October and Los Angeles in November.
Last month, Cane and Reecie celebrated David Veney at the "Beyond the Mic" stop in Virginia. Veney spent nearly nine years in a Maryland prison after he was wrongfully accused of raping a white woman. He was released in 2015 but was not officially exonerated until Maryland Governor Wes Moore signed the approval in May, earlier this year. See the clip of Veney at "Beyond the Mic" below.