Odell Beckham Jr. Undergoes 'Successful' Surgery For Torn ACL
The Cleveland Browns wide receiver was injured in a game against the Cincinnati Bengals on Oct. 25.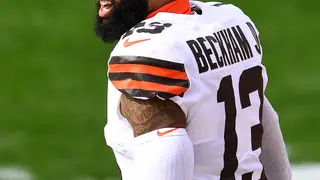 Odell Beckham Jr., has successfully undergone surgery on Tuesday (Nov. 11) for his torn ACL in his left knee. The Cleveland Browns wide receiver was injured during a game last month against the Cincinnati Bengals. 
ESPN reports that "Beckham is expected to be ready for the 2021 season." According to a Cleveland Browns official statement, the surgery was performed by Dr. James Andrews Institute of Orthopedics and Sports Medicine in Pensacola, Florida. 
Hours after the surgery the superstar athlete shared a picture of himself from the hospital.
"Sit back relax [and] watch how God work," the 28-year-old wrote in his post. "Now let the journey begin."
Beckham tore his ACL after Cleveland Browns quarterback Baker Mayfield threw a pass to the wide receiver on October 25. Bengals cornerback Darius Phillips intercepted, and Beckham attempted to tackle Phillips but flipped over fullback Andy Janovich, causing the injury.