Kenya Barris Hand Picked Sam Jay For 'You People,' Netflix Comedy Film
In an interview with BET.com, the stars chat about what influenced the creation of the movie and how a handful of comedians elevated the project.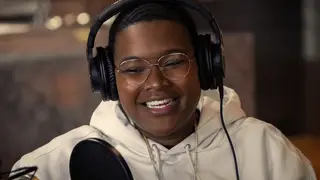 Netflix's latest film You People is a hilarious romantic comedy that stars Eddie Murphy, Jonah Hill, Lauren London, Nia Long and Sam Jay.
Directed and co-written by Kenya Barris, the movie stars Hill's Ezra, who falls in love with Amira, played by London, but when the pair head to meet Amira's parents Akbar (Murphy) and Fatima (Long), Hill's character is in for a surprise.
In an interview with BET.com, we chatted with Barris and Jay, who plays Mo, the best friend to Hill's Ezra on what it was like working with the cast and why it was necessary to make a film about interracial love.
"Jonah [Hill] was dating someone from a [different racial background] and he was having his own experiences and a 30-minute conversation turned into a three-hour conversation," Barris said speaking about the influence of the script with help of co-star and co-writer Hill.
"He was like I want to do a love letter to [Los Angeles], to the culture and to love," Barris added, noting that none of the main characters for the film had to audition including comedian Sam Jay. "I called Sam. I have been wanting to work with her ever since she worked with a friend of mine Prentice Penny. So I just called her."
Jay chimed in, "It was crazy to think that he had thought about me at all for the movie. And when he called, my first instinct was, 'I'm so terrible at auditioning and I didn't really want to embarrass him.'"
Jay noted that she was unaware of the full cast until she was brought on board and for it to be her first film, the experience was everything she could imagine and more.
"It was a little bit overwhelming but I have to say everybody was gracious and nice," she added. "Kenya gave me a lot of room to be myself and encouraged me to take the material but really make it my own."
In addition to the comedic talents of Jay, Hill and Murphy, You People also has guest appearances from Deon Cole and Mike Epps that had some improv off-script moments according to Barris.
"Sam and the way her mind works is so different and interesting and funny. Eddie, when you push him, he's competitive. Deon Cole is f***ing phenomenally funny and [of course] Mike Epps. It's a group of people that see the words [on the script] and elevate them."
You People is currently streaming on Netflix.