'You People' Trailer: Eddie Murphy, Lauren London Team Up In Hilarious Netflix Rom-Com
The film also stars Nia Long and Jonah Hill.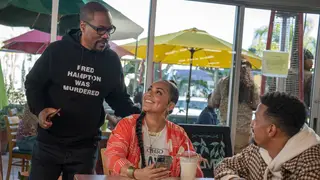 Eddie Murphy and Jonah Hill are prepared to take fans on a hilarious ride in the Netflix film You People, directed by Kenya Barris.
Hill stars as Ezra, who falls in love with Amira, played by Lauren London. When the pair head to meet Amira's parents Akbar (Eddie Murphy) and Fatima (Nia Long), Hill's character is in for a surprise.
"So you wanna marry my daughter?" Murphy's Akbar asks in the trailer. "Well, Ezra, you can try."
When London's Amira finally meets Ezra parents Shelly (Julia Louis-Dreyfus) and Arnold (David Duchovny), she herself is in for an awakening.
You People debuts Jan. 27 on Netflix.
Watch the trailer, released Thursday, below: