Commentary: Handle Your Body Like Olivia Pope
Let's all adopt Kerry Washington's beauty philosophy.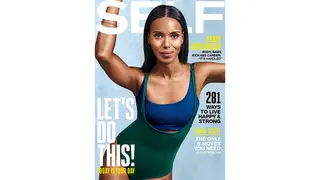 From pre-baby bodies to pre-Freshman 15 jean sizes, women are used to judging their bodies by the standards of yesterday. Maybe that would make sense if one of the main jobs of a body wasn't to evolve, change and develop. Yet we live in a time warp, looking back and bemoaning the stomach, the thighs, the waistline of days long gone.
Kerry Washington 'fessed up that she used to be the same way, but since having her daughter Isabelle 15 months ago, she has taken on an entirely different philosophy. And the actress, who talked about her body image breakthrough in the new issue of Self, was saying a lot that women — regardless of whether they are new moms or not — can use.
|SEE PHOTOS: KERRY WASHINGTON AND MORE CELEBS ON NEWSSTANDS NOW|
"I've been really focused on not being 'back' to anything, but being the best version of myself right now," she said. "My body is the site of a miracle now. I don't want to be pre-miracle." And when her manager congratulated her on being back to her pre-baby weight, Washington made sure to tell her, "You know what? I try really hard not to use that language, because it's not about going backward in life.'"
Even if you didn't just have a baby, your body image meter still needs to be set in the present. Women are under a lot of pressure by society, Hollywood and social media to never be fully happy with how we look. And usually the criticism combines the idea that there's a product or piece of clothing you can buy tomorrow that would help you look like you did back when you were as barely legal as Kylie Jenner. The result is a determined refusal to embrace what bodies and beauty looks like when you are a woman with more than a few decades behind you — which, as most over 40-year-olds will tell you, is when things usually get good. 
Refusing to compare yourself to a body you had back in the day takes off a lot of pressure to just focus on looking and feeling the best with the body you currently have. And maybe until we can really believe that deep down inside, we can make Washington's words a mantra that we repeat 'til we're as blissed out as she seems to be in the pages of the mag.
The opinions expressed here do not necessarily reflect those of BET Networks.


 BET.com always gives you the latest fashion and beauty trends, tips and news. We are committed to bringing you the best of Black lifestyle and celebrity culture.
(Photo: Self Magazine, September 2015)