How A Startup Group Is Giving A Boost To Black Entrepreneurship Through HBCUs
The HBCU Founders Initiative is helping entrepreneurs at Black Colleges take their first steps into a challenging, but rewarding world.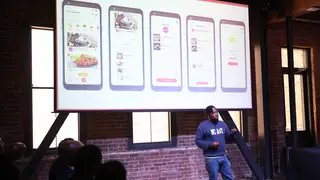 It's no secret that funding for Black and Brown entrepreneurs in the U.S. is scarce. But a new HBCU-rooted organization aimed at helping entrepreneurs is on a mission to focus solely on advancing the entrepreneurship of students, alums and faculty at Black Colleges.
"There has been a longstanding void in entrepreneurial idea acceleration at HBCUs compared to the often numerous programs at predominately White colleges and universities," said Jade Lockard, a Spelman College alumna and Program Director for the  HBCU Founders Initiative, a non-profit launched by Nex Cubed, a San Francisco-based startup accelerator. "The added resources of HBCUFI are helping participants learn about navigating the entrepreneurship ecosystem, add technology elements to their businesses, and scale."
HBCUFI currently serves more than 75 HBCUs, offering programs like their pre-accelerator program, events, panels, speakers, networks and financial resources. The organization aims to provide on-campus entrepreneurship to all 107 of the schools. But this is only the beginning for HBCUFI, which prioritizes being a catalyst for the entrepreneurs they support to help close the racial wealth gap.
Their 2023 Pitch Competition is an invitation-only event featuring elite start-up companies participating in HBCUFI's existing programs. The competition targets Pre-Seed and Seed Stage companies aimed at reducing race, gender, and generational wealth and income gap disparities, according to their webpage. Proceeds help cover the travel costs for participants and include up to $25,000 in prizes for the winners. Established founders, corporate executives, investors, government officials, and university administrators attend the competition.
HBCUFI has a progressive perspective on entrepreneurship being the key to closing the racial wealth gap. Launching highly successful companies, especially in fields African Americans have traditionally lacked access to, creates new job opportunities and economic growth in their communities. "We are innovating the concept of closing the opportunity gap within education, health care, financial services, and housing in our communities," said Marlon Evans, President and Founder of HBCUFI. "The likelihood for products and services that address the looming challenges within our communities goes up exponentially when that entrepreneur has attended an HBCUs."
Community and partnership are essential to the organization; corporations and investors support their mission. "We ask our partners to be involved in the program and delivery of our programs and initiatives," said Evans. "We require a very personalized and hands-on approach from our partners– we ask for human resources and strategic support to help us implement our programs."
"The wealthiest universities in our nation have entrepreneurship centers, on-campus accelerators, venture funds, and funding for student ventures. Yet, these resources rarely coexist on a single HBCU campus," said Lockard. "This is evidence of the inequities within the entrepreneurship and start-up resources at HBCUs that directly correlate to the racial wealth gap. Investing in black entrepreneurship at HBCUs is a direct investment into closing the racial wealth gap."
D'Angelo Senat, co-founder of AllPeep, and former participant of the HBCUFI were searching for organizations to assist him and his ideas when he discovered the program on LinkedIn. As a graduate of Florida A&M University (FAMU), he aligned with HBCUFI's mission to fuel the Black community by aiding HBCUstudent entrepreneurs.
The diversity and representation of HBCUFI inspired him; the entrepreneurs, advisors, pioneers, and experts that looked like him–Black and Latino entrepreneurs and pioneers who were leaders in their industries. HBCUFI and its partners foster a sense of community for participants. Mentors openly provide participants feedback, relationships, and connections to their networks.
"They [advisors and experts] gave us their shoulders to stand on to make it further and accomplish our goals," said Senat. "It was encouraging that our mentors were open to providing us connections in their network that aligned with our businesses. Many of the connections we still have today and a few turned into clients."
This past year, AllPeep advanced to the final stage of the Pharrell Williams Black Ambition Program and won a financial award. Senat says that if it weren't for their participation in the HBCUFI pre-accelerator program, they wouldn't have been as confident or prepared for their next steps.
He advised future participants to be themselves and to ask questions no matter what. "When like-minded founders and professionals work towards a similar goal of leveling the playing field of wealth Black your communities, don't be afraid to ask any question, said Senat. "We've gained priceless knowledge and experience from the HBCUFI pre-accelerator program."
Editor's Note: This story has been updated to correctly spell the name Jade Lockard, and include that she is a Spelman College alumna. Other editing changes have been made as well.