Did Prince William Have an Issue With Harry's Black Girlfriend?
The rumors are finally being cleared up.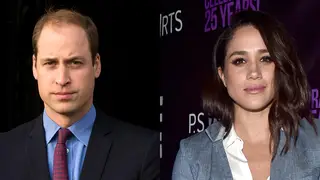 It's not a secret that Prince Harry is currently seeing American actress Meghan Markle, but over the weekend, reports began swirling that his brother, Prince William, Duke of Cambridge, thinks Harry's words in defense of his new lady were "ill-advised." However, William, himself, is now denying those rumors.
A spokesperson for Kensington Palace told Us that Prince William actually stands by his brother's decision.
"The Duke of Cambridge absolutely understands the situation concerning privacy and supports the need for Prince Harry to support those closest to him," the spokesperson said.
A Palace aide went on to add, "A statement like this would not have been released [without] the Duke first being consulted."
It should be noted that both brothers share the same media advisers, which means they both are consulted on any matters that may affect both of them.
This all comes on the heels of Prince Harry speaking out in defense of Markle after the public learned of her African-American background. He directly addressed the "level of harassment and scale of character assassination" that the Suits actress had to endure since the news of their relationship went public in October.
It's good to know both royal brothers are on the same page.
Get the rundown on Prince Harry's new relationship in the video, above.