He's Back: Tasha Smith's Ex Husband Is Coming for Her Money
Keith Douglas won't go away.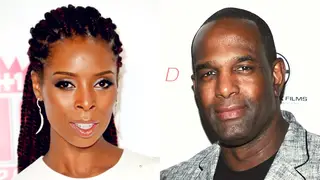 Tasha Smith saw an end to her marital nightmare last year when a judge granted her an annulment after finding her ex, Keith Douglas, to be a fraud. Sadly, it doesn't seem like Douglas is going away without a fight, and he has filed court documents to protest the annulment — most likely because he still wants those alimony checks from Tasha.
You remember: Tasha and Keith got married in 2010 and went though an ugly divorced in 2014, which included competing restraining orders and Smith alleging that Douglas is gay. After a few months of mud-slinging, they reached a settlement that included Tasha paying Douglas a $50,000 lump sum and $7,000 a month in alimony. 
However this past December, just a few days before Christmas, Smith was granted a surprise annulment on the grounds that Douglas was a fraud. The court found that he was still married to two other women, had lied about how many children he had, wasn't a pastor as he claimed and hadn't paid taxes in years. Getting an annulment after so many years of marriage is rare, so the case against Douglas must have been pretty strong.
Well, he's not letting a little thing like a judge calling him a con artist get in the way of his checks. Douglas is back, and ready to make Smith's life a living hell again if she doesn't pay up. According to The Shade Room, Douglas has filed a motion to appeal the annulment. The paperwork went in on February 2 and is still pending, but something tells us this guy won't go away without a major fight.
Thankfully, Tasha has her family and friends — like Tisha Campbell, who didn't hesitate to put Douglas on blast on social media last year — in her corner, as well as that judge who told Douglas to GTFOH last year. Hopefully this saga will get resolved in her favor.
Revisit the crazy divorce drama with BET Breaks, below:
BET.com is your No. 1 source for Black celebrity news, photos, exclusive videos and all the latest in the world of hip hop and R&B music. 
(Photos from left: Frederick M. Brown/Getty Images, Ilya S. Savenok/Getty Images)