Elizabeth Warren Delivers Civil Rights Speech At Clark Atlanta University
The address mentioned historic figures, from 19th century Black washerwomen to domestic workers' rights activists.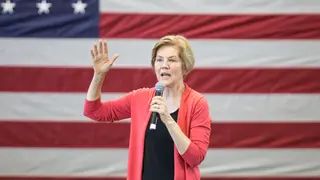 Democratic presidential candidate Elizabeth Warren took the stage at Clark Atlanta University on Thursday night (November 21) and addressed a majority Black audience with a speech on civil rights.
After an introduction by her fellow Massachusetts elected official, Representative Ayanna Pressley, Warren began her speech by highlighting The Washing Society, a union formed after 20 of Atlanta's Black washerwomen threw down their washboards in July 1881 and held a strike for higher wages and dignity.
"In the space of three weeks, 20 women on strike became 200 women. And 200 women on strike became 2,000 women. 2,000 became 3,000," said Warren during her speech. "From the beginning, employers dismissed the women, certain that they would be back to work in no time. But the women stood together.
"So the employers struck back," she added. "They warned that they would use their money and power to start their own modern industrial laundry service to replace the washerwomen permanently."
The Massachusetts senator then went on to acknowledge the systemic racism within government.
"The federal government helped create the racial divide in this country through decades of active, state-sponsored discrimination and that means the federal government has an obligation to fix it," Warren said to the crowd. "And I have a plan for that. In fact, I have a lot of plans for how we can begin to fix it together."
Here are some of the proposals Warren outlined in her speech and said she'll introduce if she's elected president:
"My housing plan will help families living in formerly redlined areas buy a home and start building the kind of wealth that was denied to their parents and grandparents.
"My plan for a Green New Deal will put racial and environmental justice at the center of our response to climate change.
"My health care plan will bring down the costs of prescription drugs and tackle the risks of Black maternal mortality that is literally killing Black women and their babies.
"My public education plan will put 800 billion dollars in new federal money into our public schools and quadruple the funding for schools that teach low-income children.

"My student debt cancellation plan will help close the wealth gap between Black and white families.
"My higher education plan will invest 50 billion dollars in Historically Black Colleges and Universities just like Clark Atlanta." 
Currently, Elizabeth Warren is polling near the top of the Democratic primary race for the party's nomination. According to an Emerson University poll published on Thursday, she is seven percentage points behind former Vice President Joe Biden and Vermont Senator Bernie Sanders who are tied at 27 percent.
According to an Iowa State University poll, also from Thursday, Warren is polling second in the Iowa Caucus (the first primary or caucus the Democrats will square off in in 2020) at 19 percent, seven points behind South Bend, Indiana Mayor Pete Buttigieg.
While Warren's campaign has undoubtedly gained remarkable momentum since it launched in February, the majority of her support has come from white, college-educated voters. As of November 18, she was polling at eight percent among Black voters in South Carolina, a majority African American demographic. The speech at an HBCU in Atlanta was a chance to speak directly to Black voters ahead of the all-important South Carolina primary, on February 29.
The speech comes just a night after Elizabeth Warren participated in the fifth Democratic presidential debate, which was also held in Atlanta at the brand new Tyler Perry Studios. During the debate, Warren also highlighted issues specifically pertaining to African Americans like student loan debt, which she claims further widens the Black/white wealth disparity in America.
Watch Elizabeth Warren's full Clark Atlanta speech below.