Soulja Boy Retires From Rapping, Heads Into The Acting World
"I'm an actor now," he shared. "Shout-out to P. Diddy."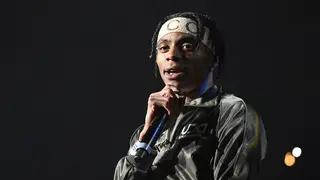 Soulja Boy is officially done with being a rapper and wants to focus on his budding acting career.
The "Crank That" artist, born DeAndre Cortez Way, shocked his fans with the news while promoting a new TV show on Instagram Live. His new show, Being Draco, premieres on Jan. 21 exclusively on Revolt TV.
"I'm an actor now," he shared. "Shout-out to P. Diddy."
Soulja Boy also insisted that he has let bygones be bygones in the music industry and put any "beefs" that he had to rest.
"I ain't got no smoke, no problems, no nothin'," the 31-year-old said. "All I'm doing is TV shows and movies."
In case you missed it, Soulja recently got into a slight tiff with Kanye West after alleging that his feature didn't make the final cut on Ye's Donda album. To which, West later explained that he wasn't impressed by the verse and later apologized.
Soulja has refused to apologize to West for his comments but it doesn't look like he has let the incident distract him from heading into the acting world.