Regina Hall Admits She Never Heard Of "Knuck If You Buck"
The classic Crime Mob track was released in 2004.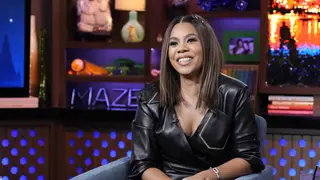 Actress Regina Hall is admitting that she had never heard the song "Knuck If You Buck" until she had to rap to the lyrics of the track in her latest mockumentary film Honk For Jesus with her co-star Sterling K. Brown.
In an interview with The Breakfast Club, Hall shared that she and Brown had to learn the words to the song despite co-host Charlamagne Tha God labeling the song as a "Negro spiritual."
"I don't know how we missed it," she said. " 'I was like what song was that?' I didn't know it."
The 51-year-old added that it took her "about two or three days" to get her verse just right and that she didn't realize how popular the song was until she filmed the scene.
Princess from Crime Mob gave her stamp of approval and headed to her Instagram to show her appreciation.
"#honkforjesus was filmed on flat shoals pkwy in Decatur ga, at the old Cathedral church…. Well known on the Eastside…. [Sterling K. Brown] [Regina Hall] are rapping #knuckifyoubuck ……," the rapper captioned her post.
Adding, "… and the movie airs the same weekend we did our first show….If you don't think God has a sense of humor… 😂🙏🏾"
For those that don't know, "Knuck if You Buck" was released back in 2004 as Crime Mob's first single from their eponymous debut studio album. Produced by Lil Jay and featuring Lil Scrappy, the single peaked at No. 76 on the Billboard Hot 100 and was certified platinum in June 2006.