Detroit Calls on Young Talent to Rejuvenate City
A new initiative entitled Challenge Detroit is hosting a competition to select 30 innovative leaders from across the country to work in Motor City and help revitalize the economy.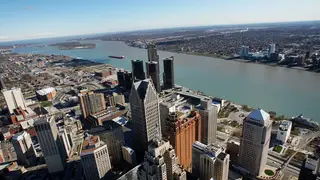 The city of Detroit knows the power of entrepreneurship and now they're calling on leaders of tomorrow to help run the city with original ideas.
"Challenge Detroit provides an opportunity for talented individuals to become part of the revitalization of Detroit," Glenn Oliver, CEO of H2bid.com and Challenge Detroit board of directors member, tells BET.com. "The winners will be living in Midtown — a cool neighborhood, with a major university, museums, lots of new businesses and new energy."
For the past few years, the state of Michigan has been experiencing an exodus of new graduates. The number of Michigan State University graduates leaving the state has more than doubled since 2001, from 24 percent to over 50 percent in 2011, according to the school. Miles away, 53 percent of University of Michigan graduates have left.
In an effort to lower tuition and ultimately provide an incentive for students to stay in the state upon graduation, State Sen. Rebekah Warren (D-Ann Arbor) proposed the Michigan 2020 bill in January to grant all students who have completed a K-12 education in the state a $9,575 grant per year. Paying the average cost of tuition for a public university in Michigan will only do so much to keep graduates in the state. If jobs are not around, students are less likely to stay.
By hosting young professionals from across the country, Challenge Detroit hopes to use the young contestants' diverse talents to create innovative ideas to attract new residents and help spark the metropolitan area's economy.
Currently, over 80 percent of the city is populated by African-Americans, and unemployment stands at 21 percent for the demographic.
For more information on the program or to begin the application process visit here.
BET National News - Keep up to date with breaking news stories from around the nation, including headlines from the hip hop and entertainment world.
(Photo: Spencer Platt/Getty Images)