Will Smith Reveals Why Jaden Smith Wanted To Be Emancipated At 15
The actor's new memoir Will details the events.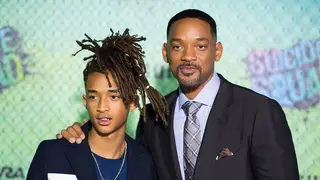 Will Smith's new memoir Will released Tuesday (Nov. 9), and a new excerpt released from his book recalls the actors' struggles with his son Jaden.
In the excerpt published in this week's issue of PEOPLE magazine, Will took a moment to share how Jaden wanted to become emancipated at 15 following their 2013 film After Earth tanked at the box office.
"After Earth was an abysmal box office and critical failure," Smith writes. "And what was worse was that Jaden took the hit. Fans and the press were absolutely vicious; they said and printed things about Jaden that I refuse to repeat. Jaden had faithfully done everything that I'd instructed him to do, and I had coached him into the worst public mauling he'd ever experienced."
The 53-year-old added: "We never discussed it, but I know he felt betrayed. "He felt misled, and he lost his trust in my leadership. At fifteen years old, when Jaden asked about being an emancipated minor, my heart shattered. He ultimately decided against it, but it sucks to feel like you've hurt your kids."
A previous excerpt released from Will included the actor detailing a moment that he contemplated killing his father, Will Smith Sr., to avenge his mother after a failed marriage where she experienced abuse.
For the release of his memoir, Will Smith kicked off his book tour in Philadelphia on Mon. (Nov. 8). He will also travel to Brooklyn, Chicago, Los Angeles and London.