Will Smith Reveals Why He Thought About Killing His Father To 'Avenge' His Mother
He detailed the incident in his new memoir 'Will' releasing on Nov. 9.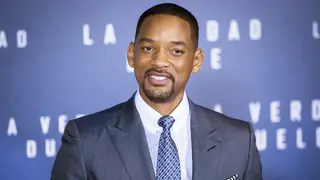 Will Smith's powerful memoir, Will, is proving that the actor's life was complicated. Scheduled to hit bookshelves on Tuesday (Nov. 9), the 53-year-old is revealing traumatic family secrets that involve his late father, Will Smith Sr.
In an excerpt of his book, Smith shares that his parents had a violent and abusive marriage and after witnessing one brutal argument, his life changed forever, PEOPLE reports.
"When I was nine years old, I watched my father punch my mother in the side of the head so hard that she collapsed. I saw her spit blood. That moment in that bedroom, probably more than any other moment in my life, has defined who I am."
Smith adds that the trauma impacted not only his life but his career. During his teenage years, his parents separated before divorcing in 2000. He chose to have a close relationship with his father, who he cared for as he battled cancer, but still had pent up anger from the abusive incident.
The Men In Black star then recalls the moment that he contemplated killing his father to avenge his mother.
"One night, as I delicately wheeled him from his bedroom toward the bathroom, a darkness arose within me. The path between the two rooms goes past the top of the stairs. As a child I'd always told myself that I would one day avenge my mother. That when I was big enough, when I was strong enough, when I was no longer a coward, I would slay him."
He continued, "I paused at the top of the stairs. I could shove him down, and easily get away with it."
Adding, "As the decades of pain, anger, and resentment coursed then receded, I shook my head and proceeded to wheel Daddio to the bathroom."
In 2016, William Carroll Smith Sr., died after a battle with cancer.
Listen to the excerpt here.
For the release of his memoir, Will Smith is also going on a book tour kicking off in Philadelphia on Mon (Nov. 8). He will also travel to Brooklyn, Chicago, Los Angeles and London.