Foxy Brown Has Entered the Arena of Remy Ma and Nicki Minaj's Beef
The new mom couldn't resist.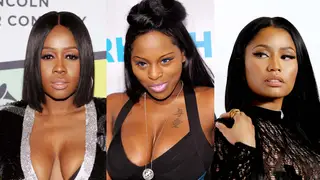 Although she low-key gave birth to a baby girl this week, with many having no idea that she was expecting, Foxy Brown has inserted herself into the conversation, unleashing a new track appropriately titled "Breaks Over."
Nicki Minaj has yet to respond officially to Remy's low blows, but Foxy isn't interested in joining the rest of the world in sitting around and waiting for that day to dawn. Instead, she's decided to get in the booth herself to lay down a bit of her own law.
In a teaser posted to SoundCloud, the veteran Brooklyn emcee can be heard spitting insults over Jay Z's Kanye West-produced "Takeover" beat. Her decision to use that specific instrumental appropriately borrows from hip-hop's history, as the "Takeover" track originally appeared on Jay's 2001 Blueprint album as a diss against Nas and Prodigy.
Considering Foxy's heated history with rap beef, namely involving her longtime enemy Lil' Kim, it's interesting that after she once teamed up with Nicki Minaj to fire a shot against her own OG nemesis, she now is stepping into the arena with this next generation and ready to school the lot of 'em.
Does she still got bars though? Let us know in the comments section and take a listen to the track's preview below.