'RHOA' Star Porsha Williams Released After Being Arrested During Breonna Taylor Protest In Louisville
She was one of 87 people arrested and charged with a felony for peaceful protest.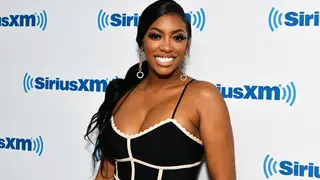 While protesting the police killing of Breonna Taylor outside the home of Kentucky District Attorney Daniel Cameron in Louisville, Kentucky, The Real Housewives of Atlanta star Porsha Williams was one of several people arrested on July 14. 
The reality star was held in police custody without bond on counts of intimidating a participant in legal process, criminal trespassing in the third-degree and disorderly conduct in the second-degree. Also arrested were activist Tamika Mallory and Love & Hip Hop star Yandy Smith.
Moments after being released in the early hours of July 15, Williams shared the news on her Instagram with a photo of her and Tamika Palmer, Breonna Taylor's mother, who waited at the jail as several of the protestors were released. 
Williams' sister Lauren, broke the news on Instagram of her arrest.
"She has always been fearless. You mess with her people, you mess with her," Lauren Williams said. "She takes the case of #breonnataylor personally and she's sacrificing work, time with her loved ones, and her comfort to make sure the offenders are held accountable for their actions."
Breonna Taylor was a 26-year old EMT worker who was killed on March 13 when Louisville police officers broke into her apartment with a "no-knock" warrant in a botched drug investigation. On June 11, the Louisville City Council voted unanimously to ban "no-knock" warrants in a new ordinance called "Breonna's Law." 
The life of Breonna Taylor will be featured as one of the episodes of the new FX and Hulu series, "The New York Times Presents." The episode will take a closer look at Taylor's life and the circumstances surrounding her death.
Several of the protestors are still in jail today as local attorneys are still working on their release. It should be noted that the three officers who fatally shot Taylor have yet to be arrested and only one has been fired from the police force.