Jennifer Lopez's Motown Tribute At The Grammys Has The Internet Torn In Half...
"For a second I thought Jennifer Lopez would've remained completely dressed for this song..."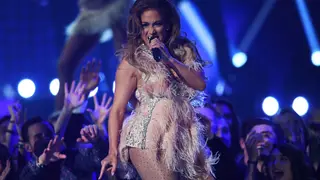 News of Jennifer Lopez's highly-side-eyed Motown tribute at the 61st annual Grammy Awards = didn't sit well with the Black Twitter considering the overabundance of well-qualified Black talents to take the slot. Still, the internet masses gave her a chance anyway on Sunday night (February 10) as the Latina songstress shook the stage with the greatest hits from the most legendary talents of the record label marking Black entertainment history.
Jenny from the Block slammed the crowd with the classics such as "Dancing in the Street," "Please Mr. Postman," "The Best Things in Life Are Free," "Do You Love Me" and more. R&B singer-songwriter Ne-Yo also jumped on the piano with J. Lo as Smokey Robinson, who initially defended Jenny as the Motown tribute's pick, graced the stage with her as well. Much of the general consensus threw up 10 signs for J. Lo's effort. But the other half still can't wrap their minds around it, and what they deem a pop-watered-down nod to the historically Black talent label isn't helping.
See their conflicted thoughts on the performance below: