The Rock's Daughter Responds To Criticism Over Her Wrestling Name
The 20-year-old recently announced she's following her father's footsteps in the WWE.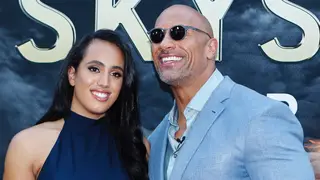 Two years ago, Simone Johnson, the 20-year-old daughter of Dwayne "The Rock" Johnson, signed with the WWE, so when she announced her official wrestling name to the world on Sunday (May 29) many fans of the sport were in high anticipation.
Via Twitter, Simone revealed that she'll be going by the name Ava Raine in the ring, which surprisingly caught backlash from wrestling fans. One user suggested she should have picked a name that connected back to her father, suggesting "The Pebble."
Just hours after she announced her new name, Simone got back on her Twitter account to defend her moniker.
"I probably sound like a broken record & hopefully this is the last i'll mention this but i don't understand why people being portrayed as separate individuals from their family name is such a heated topic," she wrote. "A name doesn't discredit any prior accomplishments from any family."
Simone added in another tweet that even if she did "build my entire career around my father," people would still find a reason to "bash her anyway." "I beg of you guys to find a new joke. Anything," she continued before posting a screenshot of a google search in which she looked up "types of rocks."
"Nothing in this category, please," she wrote.
Simone's defense ended with her reminding her fans that her response was all in good fun. "I'm not trying to ignore or undermine all the sweet comments & support i get," she said. "Thank you guys."
Simone is expected to make her WWE debut later this year. In 2020, she became the fourth generation in her family to ink a deal with the organization, following her father, grandfather, Rocky "Soul Man" Johnson, and great-grandfather, "High Chief" Peter Maivia.