Charlamagne Admits To Stuntin' In A Gucci Jacket At The VMAs
He did it for the 'gram.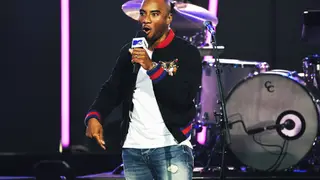 Charlamagne tha God is the first celeb who admits that he stunts for the 'gram!
When you ask guys who were some of the best dressed males at the VMAs this year, Charlamagne's name comes up because of his clean-cut fresh look accented with a Gucci bomber! The embroidered bomber is a big seller in the Gucci collection for men, and Charlamagne got his hands on one! However, the very outspoken radio personality quickly realized he was a little too ambitious by purchasing the jacket.

'Tha God' confessed that he is not on that "bad & bougie" level yet and honestly ok with living "fine and frugal"! Charlamagne then continued to post captioned pictures to explain the rules associated with stunting for 'gram to let his followers know he fully understands the game!
"I'm a post as many pictures of me in this jacket as I can because it's going back to the store today."
"The rule is if you post more than 5 pics of you in any article of clothing you technically own it so when you return it and somebody buys it you technically get credit for blessing someone else."
The bomber jacket appears to be custom or not available yet for mass selling. Welp! Charlamagne's stylist must do the embarrassing task of walking into that Gucci store and saying "Yeah, this didn't work out for my client" while trying to distract the associate from smelling the scent of cologne and sweat. Let's hope the salesperson is one of the rare people who doesn't watch TV! 
BET.com found a jacket from Gucci similar to Charlamagne's VMA one, so we can assume the price tag of the bomber is around $3,200!
Well, Charlamagne just may have cleared up our suspicions that Gucci *cough* could possibly be paying male celebs to wear its styles now, because as previously reported, the brand has become the new 'IT BOY' uniform. Charlamagne, high fashion isn't cheap, man!
But did Charlamagne just put us on to a celebrity social media secret?