Jennifer Hudson And Common Reportedly Travel To London In Flirt Alert
A source reports they are "very much an item."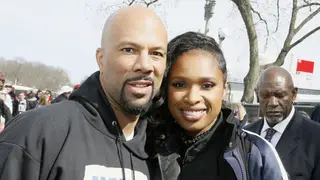 Although neither have directly confirmed if they are dating, Jennifer Hudson and Common are keeping the people guessing, and we like it!
According to Page Six, the musicians traveled abroad to London to see the Tony-award winning musical, A Strange Loop, in which Hudson serves as a producer on.
The Daily Mail reports that the duo did not arrive together, but cites that they took pictures backstage with the cast.
Taking into consideration the mounting rumors of a budding romance between them, a source told The Daily Mail that the writings are on the wall. "There has been speculation for months regarding whether they are together, but the fact they've traveled all the way to London together just shows they're very much an item," said the source.
The source also said their decision to arrive at the production apart was a deliberate attempt to take attention away from them. The source said, "They arrived to the show individually to avoid any commotion but away from prying eyes, they were very much in each other's company."
Page Six reached out to reps for Hudson and Common for comment, of which there was no avail.
Romance rumors began swirling about the two friends after Hudson gave Common a shout-out for his birthday in a post on Instagram in March. The post read, "Team Jhud pls help me wish one of the brightest lights, a Chicago and hip hop legend, the one and only @common a very happy birthday on today!"
Then Common reposted her birthday message to him onto his Instagram Story with the caption, "Thank you!"
Last month while making an appearance on Today, Al Roker asked Common about dating rumors, which garnered a huge smile and chuckle from him. Not addressing if they are an item, he said, "I'll say, speaking of Chicago, she's a Chicagoan, this amazing human being — I've always been inspired by her," he replied. "She's one of the most beautiful people I ever met on the planet. Incredible heart, and she's just dope, man…seeing her evolve from an actress and singing, she's doing so many things and now her talk show, she's amazing, she's inspiring. I'm grateful to know her."