Look: The Full Story Behind This White Navy Vet Who Protested the National Anthem in a #BLM Shirt
Al Woolum took a page out of Colin Kaepernick's book.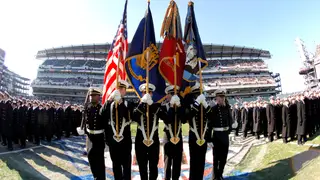 After a year of what seems like constant racial tension and police brutality, many athletes and public figures have used their platform to stand against social injustice. One of the most notable instances came when NFL quarterback Colin Kaepernick remained seated during the national anthem.
Now, Kaepernick's action has trickled down to novice athletes and spectators. Last week, players on the women's volleyball team at DeSoto High School in Texas knelt during their pregame national anthem. The gesture received praise as well as much criticism.
Most of the players on the volleyball team are African-American, which caused for many people to attack their actions. However, one white Navy veteran decided to stand with the volleyball team by kneeling down.
Al Woolum is a U.S. Navy veteran who attended the most recent DeSoto volleyball match wearing a Black Lives Matter t-shirt. When the national anthem played, Woolum knelt down on the court in full view of the players. 
"The decision they made to kneel at their last game, they caught a lot of flak for that. I saw that on the news," Woolum reportedly said. "I looked when their next game was, and I came to support them to let them know somebody in the white community cares."
Although there is much debate regarding kneeling or protesting during the national anthem, one thing is for certain: we need more people like Al Woolum.