Marsai Martin Talks Skincare for Sensitive Skin
"I had to learn what ingredients work for me," said the actress and Clinique brand ambassador.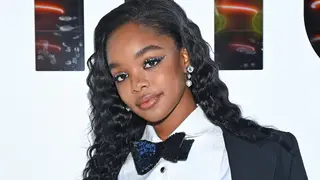 Marsai Martin's hotel room is vibrant with energy and family-centric. Her mother welcomed us into the room as if we were entering her home. Martin follows behind with the same warm greeting. Her aura is similar to her skin—radiant and pure. Naturally, the conversation on skincare is centered around family. Martin says, "My earliest memory of skincare starts with my grandma. I remember she had all kinds of skincare on the bathroom counter. I didn't know what it was then, but I knew it was the stuff I couldn't touch."
Martin could wear makeup before she began experimenting with skincare. She found herself on Black-ish at 10, giving her access to Hollywood makeup artists. Her character wore light makeup throughout the show. "I have sensitive skin. One makeup artist would work on me, and my face would break out. Then another makeup artist would do the same, but with different products, and I would be fine. It also didn't help that I have eczema, too," says Martin.
Skin sensitivity can be challenging, but the actress figured out what works best. "I had to learn what ingredients work for me. I researched and learned that oatmeal creams helped ease my skin the most." Oatmeal is often used to help soothe dry skin and the discomfort of eczema. The value of education and a supportive family opened Martins's outlook to clean skincare products that are effective and gentle for the skin.   
The "Little" actress and executive producer is now a Clinique brand ambassador and partner producer, something she said she is excited about in the brands press release. "It's no secret how much I love skincare, and it's such an honor to partner with an iconic beauty brand who takes pride in creating safe formulas for all skin types. I look forward to creating magic that showcases the Clinique mission with a new vibe."
Martin incorporates one of Clinique's beloved items in her daily routine. "One of my favorite products from them is the Take The Day Off Balm," Martin told BET. "To be able to take off my makeup and know that their ingredients will help my skin be as nourished and healthy as it needs to be is a good feeling."
The cleansing balm is formulated with safflower seed oil. This ingredient is rich in linoleic acid to help the skin feel soft and nourished. The product works well for easily irritated skin as it gently removes debris. Perfect for the former Black-ish star whose career requires lots of makeup application and removal. 
Plus whatever hydration is lost from cleansing she adds back. "I use Clinique's Moisture Surge as a part of my skincare routine. It helps my skin [stay] moisturized all day, helps my eczema, and gives me a healthy glow," the actress says.