Marsai Martin Scores Two New Brand Deals
Hollywood's youngest executive producer will be the face of Clinique and Glasses USA.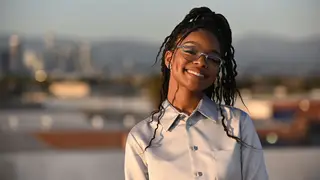 Marsai Martin is always making moves. Just weeks from her 19th birthday, she entered two new exciting partnerships.
Marsai will join Clinique as its new Brand Ambassador and first-ever Partner Producer. She will lend her personal vision to authentically support brand storytelling, photography, and more.
"We are thrilled to welcome Marsai as a Clinique Brand Ambassador and first-ever Partner Producer. Her confidence and creative intellect truly embodies Clinique's brand values. We are impressed by her brave conversations, achievements, and the impact she has made as an actress, producer, and philanthropist and look forward to collaborating with her to incorporate her vision of modern beauty and culture into Clinique storytelling," said Michelle Freyre, President, Global Brands, Clinique and Origins.
"I'm so excited to join Clinique as a Brand Ambassador and Partner Producer," says Marsai. "It's no secret how much I love skincare, and it's such an honor to partner with an iconic beauty brand who takes pride in creating safe formulas for all skin types. I look forward to creating magic that showcases the Clinique mission with a new vibe."
In addition to her role at Clinique, she is teaming up with GlassesUSA.com to offer customers a remarkable selection of 28 styles in a brand-new campaign called "Four Eyes Are Better Than Two." 
"I always grew up with the idea that glasses are made to empower you. This collection from GlassesUSA.com is the true meaning behind my personal journey. As a proud glasses wearer, glasses have always been a huge part of my personal styles and this collection is truly ME." she said in a statement.
Arie Tom, GlassesUSA.com's CMO, said in a statement, "We are thrilled to announce our exciting collaboration with actress Marsai Martin. She serves as a true source of
inspiration for glasses wearers, aligning perfectly with the values we hold dear at GlassesUSA.com. This partnership marks a significant milestone in our ongoing mission to enhance the lives of glasses wearers by assisting them in discovering their perfect pair of glasses, embracing self-expression, and honoring their individuality."
The collection starts at $88 and includes prescription lenses and free shipping. It features striking, colorful eyeglasses and sunglasses, and will be two more collections released later this year.