This Day in Black History: June 28, 1986
Hugh Masekela and Sade performed an anti-apartheid concert in London on June 28, 1986.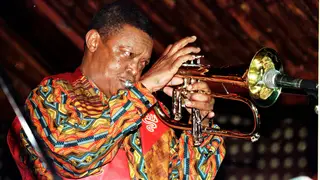 It was during the waning days of apartheid in South Africa that a group of musicians gathered in London's Clapham Common on June 28, 1986, to protest the African nation's laws of racial segregation. It was one of the largest gatherings of people in the worldwide anti-apartheid movement.
The group was headlined by the internationally renowned vocalist Sade and Hugh Masekela, the noted South African trumpeter and singer, and they performed in front of an audience of more than 250,000 people. Also appearing at the concert were Elvin Costello, Peter Gabiel, Boy George and many others.  

The Nigerian-born Sade is a British singer, songwriter and record producer who first achieved success in the 1980s. In 2012, she was listed as Number 30 on VH1's 100 Greatest Women in Music.
Masekela, who rose to fame in the 1960s, is known for his music using traditional South African influence fused with jazz and pop styles. In addition, Masekela is involved in several social initiatives, and serves for instance as a director on the board of The Lunchbox Funs,  a non-profit organization that provides a daily meal to students of township schools in Soweto, South Africa.
BET National News - Keep up to date with breaking news stories from around the nation, including headlines from the hip hop and entertainment world. Click here to subscribe to our newsletter.