Uh-oh: Here's How The Kardashians Responded To Blac Chyna's Stroller Fight At An Amusement Park
The brawl might have opened the door to much bigger problems.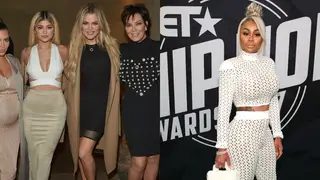 Blac Chyna found herself in a compromising position over the Easter weekend when she was captured on video brawling with another patron at a Six Flags Amusement Park.
Despite the model explaining on social media that she was provoked and was, thus, protecting her kids, her actions didn't sit well with her ex's family, and it appears as her temper may cost her, big time.
According to People, the Kardashians have grown weary of her "dramatic" ways and are solely focused on the well-being of her and Rob's daughter, Dream.
"She is just drama all the time," a source told the publication. "The family's just relieved Rob isn't involved with her anymore... [their] biggest concern is that Dream is safe."
Speaking of Rob, TMZ is reporting that, due to Chyna's latest actions, the custody agreement that the exes have in place could be in jeopardy as he is reportedly gearing up to take her to court.
He reportedly has been watching her violent antics for months now, with her latest highly publicized brawl being the nail in the coffin. The site further reports that the Keeping Up With the Kardashians star is currently filing legal documents to clearly outline what Chyna can and cannot do in front of their child.
Furthermore, he reportedly also wants her to keep her 18-year-old boyfriend, YBN Almighty Jay, or any other romantic interest, away from the toddler unless they have been committed for more than six months. Lastly, Rob is also gunning for a significant reduction in his $20,000 monthly child support payment.
The two currently share 50/50 custody of Dream, but as Chyna currently makes significantly more money than Rob does, this may end up costing her.