Logic's 'AfricAryaN' Album Title Is Rubbing People the Wrong Way
Did he run this name by anyone before announcing?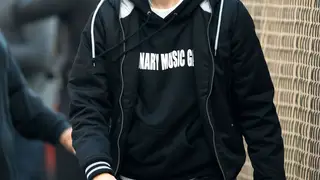 Logic made headlines recently when he announced on Twitter that his new album would be called AfricAryaN.
Yeah, you read that title correctly. We're still scratching our heads about it. Logic is half white and half African-American but still, like, huh?
Anyway, presumably anticipating a public backlash, or at least questioned reaction, the Maryland rapper sat down with Dan Harmon's podcast and explained exactly what he meant with the new LP title.
"It's two words that I put together," he says. "It's basically... the definition of it is the evolution of man, scientifically proven the first man and woman from Africa and then how over time culturally evolving into lighter and lighter and much fairer skin. So the album is going to be called AfricAryaN."
Logic also differentiated his new album title from what people are thinking off the top of their heads.
"It's about me being Black and white and seeing life from two sides. And once again about that cultural evolution and how you can go from the darkest of skin to the lightest of skin," he claims. "Or the Aryan brotherhood, if you will, who think they're pure of blood when at the end of the f***ing day we all have that in our blood and we all have so many different ethnicities in our blood no matter how pure we think we are."
Logic is aiming for a 2017 release for the project. Twitter, of course, reacted to the new news. They're not as understanding as perhaps Logic's most die-hard fans. Check out what they had to say below.