Charles Barkley Got Slammed for Saying Cops Do Everything Right Except 'Split-Second Decisions'
A mother whose son died in police custody after being beaten for 15 minutes disagrees.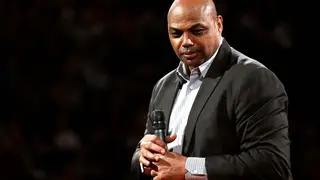 Charles Barkley's new television show, American Race, promises to have real conversations about race relations in the U.S., even if it makes people uncomfortable. 
Well, a sneak peak of the docu-series shows how real these conversations are going to get for the NBA Hall of Famer.
A clip from the show has Barkley telling an audience how he spent a day with police and explaining to the crowd how the "split-second decisions" that cops have to make can negate the "95 percent of things correct" that they do.
That's when one woman in the audience stood up and declared to Barkley, "I don't know you" and "I don't like you."
That woman was Diane Butler, the mother of Tyrone West, a man who died in Baltimore police custody in 2013.
"You said you rolled with the police and had a conversation with them, and it takes them only a split-second to make a decision," she said. "Tell me why it took 15-20 minutes for them to beat my son to death. Fifteen officers! They did some horrific stuff to my child and I know this to be real. Baltimore city is dirty!"
To that, Barkley simply said, "racism exists" and "what I'm trying to do is start a dialogue."
The explosive scene between Butler and Barkley can be watched below along with commentary from Desus & Mero, who were as blown away as we were witnessing this chilling confrontation. Is Sir Charles fit for this job?
"It's a hard show," Barkley told members of the press last week in New York City, as reported by Sports Illustrated. "None of the conversations were pleasant. They all had to do with some form of discrimination, exclusion. None of the conversations were happy-go-lucky. I needed a beer after every conversation."
American Race will air on TNT this Thursday and Friday with two episodes each night at 9 and 10 p.m. (ET/PT).
BET Sports News — Get the latest news and information about African-Americans in sports, including weekly recaps, celebrity news and photos of your favorite Black athletes.