Can Vitamin D Prevent Type 2 Diabetes?
A current study is recruiting prediabetic adults to test this theory.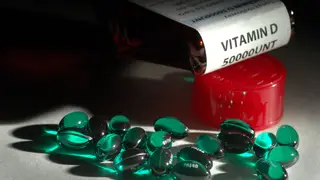 We know these two things: Many of us are vitamin D deficient (it's a global problem), and type 2 diabetes is at epidemic proportions in our community. Is there a link between the two and can more of one eliminate the other? Researchers at Tufts Medical Center have launched a large trial to answer these questions.
The study, named D2d, is sponsored by the National Institute of Diabetes and Digestive and Kidney Diseases and funded by the National Institutes for Health. It is the first large study (scheduled to enroll 2,500 folks) to examine if vitamin D supplements can help delay—or even prevent—type 2 diabetes in adults with prediabetes. Previous studies like D2d have been small with few participants.
"Vitamin D use has risen sharply in the U.S. in the last 15 years, since it has been suggested as a remedy for a variety of conditions," says study manager Myrlene Staten, M.D. "But we need rigorous testing to determine if vitamin D will help prevent diabetes."
Our main source of vitamin D is the sun—something in shorter supply now that Daylight Saving Time has ended—and from a limited number of foods.
More than 20 centers throughout the United States are recruiting patients for the four-year D2d study.
BET Health News — We go beyond the music and entertainment world to bring you important medical information and health-related tips of special relevance to Blacks in the U.S. and around the world. Click here to subscribe to our newsletter.
(Photo: Charlotte Observer/MCT /Landov)