10 Fierce and Flattering One-Piece Bathing Suits For Your Beach Vacation
These gorgeous and flattering bathing suits are reason enough to hit the sand.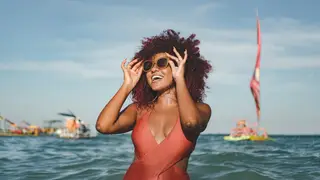 While bikinis are cute and tankinis are a fun option, a one-piece swimsuit can give you all that and more. From trending styles to classic silhouettes, one-pieces are not just flattering; they can be downright sexy. You can rock one on the beach or while relaxing comfortably by the pool. They can also function as foundation pieces to an outfit, such as a bodysuit paired with a skirt, pants, your favorite blazer or vest.
With summer fast approaching, we wanted to help you find your go-to suit/s for beach season. So snag one from the ten below that we have rounded up. Pack a matching wrap, sunscreen, flip flops, and head off to your next sun and sand vacay.
Amini @aminiswim

This female-owned beachwear brand that gives away 10% of its profits to protect the planet creates swimwear intended to flatter your body. Amini, which means "believe" in Swahili, was started by designer and photographer Cierra Porter, who wants to inspire us to act compassionately towards our oceans and seas so that future generations can enjoy them. The DANI one-piece made using recycled plastics is perfect for those who want to accentuate their legs. Sizes available S to XL.

Gabi Fresh @gabifresh

After graduating college, Gabi started a blog in 2008 after not having much luck getting an entry-level job or internship. Knowing that there was a lack of fashion resources for younger women aged 14 and up, her platform focused on advising people to "ignore fashion rules" and reject the typical mainstream fashion queues to "dress for your body type."

Clearly, there was a need, and she filled that space and built her reputation from appearances on Good Morning America, The Today Show, and features in magazines such as Glamour and Teen Vogue. Her new swim collection collab with ELOQUII is both flattering and versatile.

This Gabi Fresh Swim smoked paprika one piece, which features a waist-enhancing wrap, can go from poolside to lunch plans when paired with palazzo pants. Sizes available 14 to 32.

SXA @shopsxa

Reviewers of Shop SXA, launched by entrepreneur Sarah Alexis, rave about the feel of the fabrics used. Some of that could be due to the fact the brand's swimwear is made with a blend of 85% nylon and 15% spandex which can make its second skin-designed products feel comfy. The Raphael suit, though well-lined, leaves very little to the imagination in the best way possible. Sizes available are S to XL.

Reign Studi @reignstudio

The countdown has officially started for getting a popping swimsuit, and this orange Jummai ribbed look from Reign Studio will certify you beach ready. The swimwear and loungewear brand is about creating functional fashions for people with fuller busts. To ensure that its customers have a good shopping experience, the brand has developed its own sizing system that ranges from 28F to 40KK cups.

RJ Swim @rjswimnyc

The Nikki cut-out suit from Brooklyn-based RJ Swim is a sophisticated one-piece that will make you want to spend your summer in flip-flops and a sun hat. It also features high-cut cheeky bottoms and is available in two eye-catching colors, orange and bright blue. Sizes available are XS to L.

Riot Swim @riotswim

Founded by Monti Landers, Riot Swim's beachwear designs are nothing short of laser-like, especially the high cut of the Echo one-piece. It comes in five shades, but that fire red is a must. Sizes available are XS to XL.

XhaleSwim @xhaleswim

If you thought sexy thong swimwear was only available in bikinis, XhaleSwim is here to prove you wrong. Its handmade XhaleSugar  "One Love Jamaica" color-blocked one-piece featuring black, green, and yellow, the colors of the flag of Bob Marley's birthplace will turn heads and remind you to own and celebrate every beautiful curve that you have. Sizes available S to XL.

Icon Swim @iconswim

Finding an affordable and cute swimsuit isn't always easy, but Icon Swim has got you covered. The brand's printed suits are available in different styles and matching cover-ups and shirts to complete your look. Sizes available XS to XXL.

JADE Swim @jadeswim

As important as it is to have a little black dress, it is just as essential to have a sleek black swimsuit. And this sexy number with the moniker Micro Trophy screams European vacation. Can't you just see yourself soaking up the Mediterranean sun while sporting a wide-brimmed hat and dark shades? Or is that just our fantasy? Sizes available XS to XL.

DOS Swim @dosswim

In 2019, Shay Johnson and Paula Hess founded DOS SWIM. The duo who had met five years earlier, seemingly from different backgrounds— Johnson raised in Atlanta, Georgia, and Hess born in Germany and raised by a Colombian mother—shared a love of traveling. They visited and were inspired by places such as India, Mexico, Morocco, and the Caribbean, where they purchased textiles. Grab the Black Zora One-Piece Swimsuit sold exclusively at SSENSE. Sizes available XS to 3XL.