The Cast Of Queen Sugar Pay Their Respects To Creator Ava DuVernay, Amid Series Finale
Tune into 'Queen Sugar' every Tuesday at 8 PM ET only on OWN.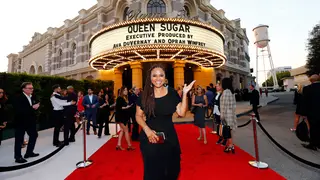 Queen Sugar is coming to a close after kicking off its final season of the series on OWN on Tuesday (Sept. 6), the show, which first premiered in 2016, follows a raw look at the life of a Black family in the South told through the Bordelons, who struggle to preserve their land and legacy in the fictional St. Josephine Parish in Louisiana.
Based on the book by Natalie Baszile and created by Ava DuVernay the series stars Dawn-Lyen Gardner, Bianca Lawson, Rutina Wesley, Tina Lifford, Omar Dorsey, and Kofi Siriboe.
In an interview with BET.com, Lawson, Wesley, Lifford and Dorsey chatted about how they are feeling now that the final season is here while each taking time to thank DuVernay for her guidance and presence through all seven seasons.
BET.com: It's the end of an era! Season 7, the series finale is here, how are you all feeling?
Bianca Lawson: I think I'm too close to it right now. We are still in production, I think once all of that is over, then I'll better know how I feel. Also, coinciding with the fact that I'm also 43 It's sort of like a new chapter in a lot of ways.
Rutina Wesley: I don't have an answer for you yet because I'm still processing. It's been a really long time to be a part of a family and to be on a show. It's bittersweet because I'm overwhelmed, overjoyed and sad. But then I'm incredibly grateful that I had the opportunity to be a part of this, that I felt I had the opportunity to share my work in this way.
I think it's a way that people hadn't seen me before. I don't know if I'll ever really be able to find the words to sum up what this [show] meant to me and how it shifted me as a human being.
Tina Lifford: I feel gratitude. I feel complete. I feel proud to be a part of an extraordinary legacy.
Omar Dorsey: I really do feel a feeling of completion, we told an amazing story. We're blessed to be able to have had seven years to tell this story, shows don't get seven years. Everything was left, right there at the doorstep to now take home, unpack it, and watch it in perpetuity.
BET.com: Queen Sugar is created by the incomparable Ava DuVernay, are there any words of gratitude or thanks that you would like to share with her?
BL: [Ava] has no ego. [She] is so collaborative and so present and you feel like she really cares and she's really supporting you and wanting you to win! [She] wants everyone to feel seen and taken care of.
RW: I just want to thank her for the opportunity! You are given opportunities but you have to walk through the door at the end of the day. I'm just happy that she was there with the door open for me to walk through.
TL: It's not just Ava the visionary, Ava the creator, Ava the artistic director and writer. But it's also Ava the publicist that has helped sort of create a new dynamic, a new reality, for Black folks, before and behind the camera. It's her awareness of this industry and how it works. It's her quick mind and brilliance and boldness that allows her to come in and in such a short period of time reshape the landscape. And make an undeniable place for herself and what she represents. You can't help but to have incredible respect for who she is! I have great gratitude.
OD: This version of what Queen Sugar just comes from [Ava's] mind and her soul. This is her labor of love. It's her baby.