Black Twitter Gives A Shady Goodbye To Meghan McCain On Her Last Day At 'The View'
The daughter of the late Arizona Sen. John McCain was on the show for four long years.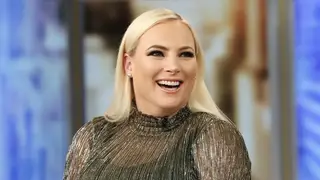 After four long years of hissy fits and drama, Meghan McCain's stint on The View has ended. Twitter, especially Black Twitter, is rejoicing.
Meghan McCain's mother, Cindy McCain, President Joe Biden's selection for ambassador to the United Nations Agencies for Food and Agriculture, made an appearance to say goodbye. Former House Speaker Paul Ryan filmed a goodbye. In addition, pro-filibuster, and apparently one of McCain's good friends, Arizona Democratic Sen. Kyrsten Sinema came on for an interview where she continued to defend a relic of Jim Crow.
In her final goodbye, McCain said, "The crew, the producers, everyone worked so hard, and honestly the audience giving me four years to give my opinion and show my perspective. This has been a really wild ride the past four years of my life. It's been honestly the best of times and the worst of times in all ways, on and off this show," she said. "It's been a really incredible, liberating experience and I will always cherish the time I spent with all of you."
She also added, "Thank you all from the bottom of my heart. And I hope that our executive producer, Brian [Teta], can forgive me for making his blood pressure rise for the past four years as much as I probably have."

Twitter was elated to see Meghan McCain leave the show before the 25th season premieres next month.
See the hilarious reactions below: